Last year, Preservation Chicago named the city's neon signs as one the seven most-threatened endangered structures. They noted that "Chicago's historic neon signs were once a prominent part of Chicago's landscape and cityscape, fronting almost every commercial street throughout the city." I was intrigued and saddened by the idea that Chicago's neon signs are disappearing before our eyes. So I reached out to Nick Freeman, author of the book Good Old Neon: Signs You're in Chicago. We chatted about his photography of neon signs and their history in the Chicago area.
We research stories from Chicago history, architecture and culture like this while developing our live virtual tours, in-person private tours, and custom content for corporate events. You can join us to experience Chicago's stories in-person or online. We can also create custom tours and original content about this Chicago topic and countless others.
The Heyday of Neon Signs
My first question for Mr. Freeman was about the neon sign's golden age. He said that the signs were at their most popular from the 1930's until the 1960's. The signs get their signature glow when voltage is applied to the gases trapped inside sealed glass tubes. The voltage creates a luminescent plasma known as glow discharge. By the late 1920's inventors and scientists had hammered out how different gases and coatings interacted to create the rainbow of colors we are familiar with. This distinctive illumination quickly caught on with advertisers around the world.
Mr. Freeman said that Chicago was a hotbed for neon signs. According to him, the city was more or less blanketed with them in the middle of the 20th century. The market for the signs was so huge that Chicago once hosted over 200 sign manufacturers. The two biggest clusters of neon signs were in the downtown commercial district and the strip of seedy motels along Lincoln Avenue and Western Avenue on the North Side.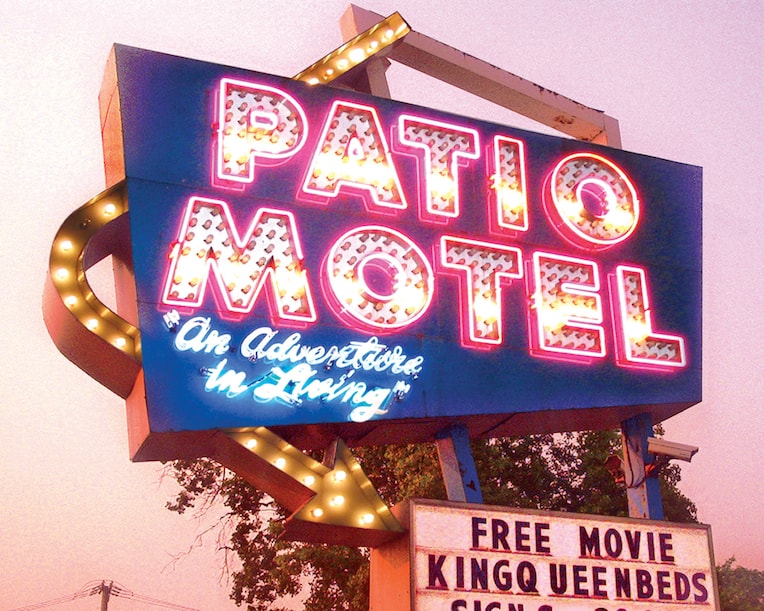 Bad Reputations in Changing Times
Mr. Freeman said it was businesses like those sleazy motels that contributed to the doom of neon signs in Chicago. Increasingly people saw neon signs as old-fashioned and undesirable. In downtown Chicago, old movie palaces and other run-down businesses were the ones with neon signs, often with some broken letters. Block 37, which we often visit on our Downtown Bucket List private tours, got redeveloped for just these reasons. By the 1970's, ordinances were passed against neon signs. Businesses that used the signs either shuttered or moved on to newer forms of advertising. The rise of national chains and franchising also contributed to the decline.
Even as all that happened, the art of manufacturing neon signs was being lost. Each sign is a custom design and has to be crafted by hand. That means that the cost of production and upkeep is relatively high. Since the neon sign manufacturing field was collapsing, few young workers signed on and learned the craft. The relative dearth of people capable of creating a neon sign drove prices and repairs even higher. By the 1980's, the wholesale destruction of neon signs had begun.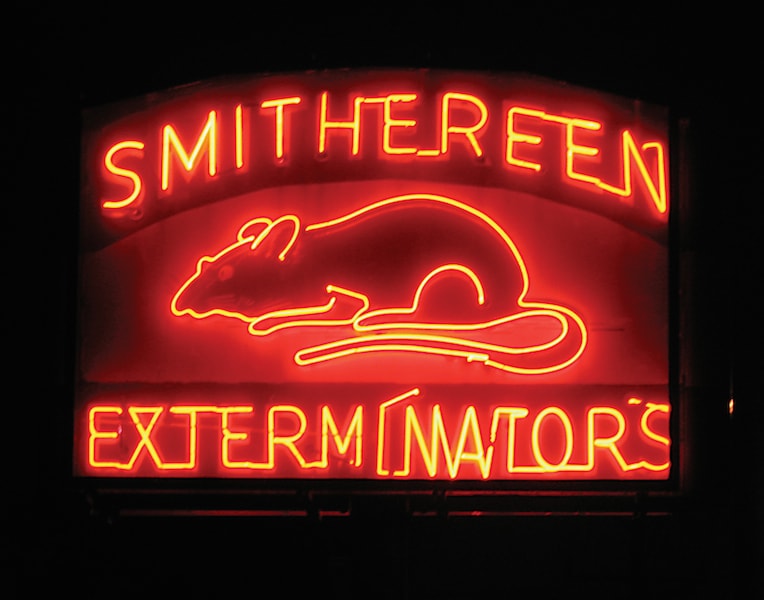 Nostalgia and Preservation
When I talked to Mr. Freeman, we shared our thoughts on why neon signs can look so appealing. He said that the unique glow of neon gives them "that visceral impact…that's directing a person's attention." It was an expansion on his thoughts from the forward to Good Old Neon, where he wrote that a great sign has an "elusive synchronicity of color, shape, typography, and iconography, enhanced by authenticity and eccentricity."
I told him that for me, born well after the heyday of neon, these signs always had a strange desolate nostalgia and vintage appeal. I can remember many neon signs dotting commercial strips from my childhood, but even then they were a dying breed. It always struck me that those thin, glowing strands of light were very lonely. A small cry of resilience and expression against the enveloping black of night.
So are we living in the very twilight of neon signs? So I asked Mr. Freeman if there were any preservation efforts for these signs. While no concerted effort has been made in Chicago, Freeman alerted me to two institutions that are undertaking preservation. The American Sign Museum, located in Cincinnati, preserves and displays the history of American signage. Many of the signs in their collection are originals that have been restored to their former glory. On the other side of the country, the Neon Museum in Las Vegas, houses an outdoor collection of the iconic neon signs from the Vegas Strip. Along with a small upswell of nostalgic support for this by-gone advertising, those collections may help preserve what was once a universal element of cityscapes across America, including Chicago.
– Alex Bean, Chicago Detours Office Manager and Tour Guide
ABOUT CHICAGO DETOURS
Chicago Detours is a boutique tour company passionate about connecting people to places and each other through the power of storytelling. We bring curious people to explore, learn and interact with Chicago's history, architecture and culture through in-person private group tours, content production, and virtual tours.