Most locals remember that, like Hugh Hefner himself, the myth and image of Playboy was born here in Chicago. But standard trivia like that is never enough for us! So let's take a moment to talk a little more about the story behind the man and his club. You can learn a bit more by signing up for a Downtown Bucket List private tour, of course.
We research stories from Chicago history, architecture and culture like this while developing our live virtual tours, in-person private tours, and custom content for corporate events. You can join us to experience Chicago's stories in-person or online. We can also create custom tours and original content about this Chicago topic and countless others.
Hugh Hefner: Most Famous Chicagoan?
First and foremost – yes! Hugh Hefner is originally from Chicago. In the 2010 documentary about him, he says, "My roots come from Chicago. My dreams came from Hollywood." He was born and raised by conservative Midwestern Methodist parents in Montclare, a neighborhood on Chicago's northwest border. He earned a psychology degree from the University of Illinois at Urbana Champaign in less than three years. His 152 IQ score may have helped there. After that, he came back to the city and lived and worked here for many years before moving to LA in the '70s.
First Foray in Publishing
Hefner's first dabble in–what we'll call–adult publishing was released shortly after returning to Chicago from school. That Toddlin' Town: A Rowdy Burlesque of Chicago Manners and Morals was released in 1951. Though the title says quite a lot, it does not say it all. This little book (that you can read online) is a compilation of comics that play off of Chicago scenes and people with some of the sophistication, sexiness, and silliness that we associate with Hefner's other endeavors.
A few years later, during a sort of winter of his discontent, Hefner sold most of his belongings and started work on what would become the first issue of Playboy. From there, he launched a worldwide enterprise involving not just publications but also all kinds of entertainment and activism in censorship.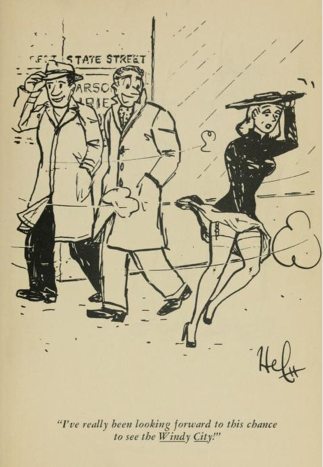 Playboy Conquers the World
Success and prosperity ensue. Hefner buys himself a mansion in the Gold Coast, where he can enjoy whatever he pleases. And if you doubt that for a even a second, just consider the famous plate above the doorbell that read, "Si Non Oscillas, Noli Tintinnare" in Latin. In English it means, "If you don't swing, don't ring."
Then on leap day in 1960, Hefner opened the first of the Playboy Clubs at 116 E. Walton St.. Here "keyholders" could come to eat and to drink while enjoying big name entertainment and service from ladies dressed as Playboy Bunnies.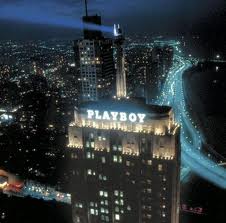 After a few years, they move to the Palmolive Building at 919 N. Michigan Avenue, where they topped the building with nine-foot-tall letters declaring their presence.
The Playboy Legacy in Chicago
Nowadays, Hugh Hefner is so often associated with his plethora of lovers and escapades that we tend to overlook the role he played in politics and philanthropy. This man was constantly defending his First Amendment Right to the freedom of speech. Hefner battled segregation by hiring African American women as Bunnies. He also advocated tolerance of sexual preferences, including homosexuality, with the stories he published in his magazine and his lifestyle. He considered this a part of his sexual revolution to challenge the more Puritanical media of the times. Hefner even has a subspecies of Marsh rabbit named after him for his support against their endangerment.
Though Hugh Hefner left Chicago for L.A. in the '70s, he kept the Playboy offices here in Chicago until just last year. We know that Hefner was sad to see the move happen, and so were we.  Still not satisfied? Consider viewing Playboy artifacts at the Chicago History Museum. Or learn more on a Downtown Bucket List private tour.
— Elizabeth Tieri, Chicago Detours Tour Guide
ABOUT CHICAGO DETOURS
Chicago Detours is a boutique tour company passionate about connecting people to places and each other through the power of storytelling. We bring curious people to explore, learn and interact with Chicago's history, architecture and culture through in-person private group tours, content production, and virtual tours.