Last June, I presented at the Union League Club about the architectural history of the building, including its cultural context in downtown Chicago business and life and the relevance of historic architecture over time. We had a great time, and they've invited me back, and you are invited as well! In addition to experiencing the discussion in their beautiful library, you'll get a peak at the architecture of this impressive 1920's building. It's not a tour of the private club, but you certainly can use the stairs and very slowly make your way down!
Speaking Event at the Union League Club
The talk is titled, "The Cultural Relevance of Private Club Architecture" and is happening Monday, March 18th, 6pm-7pm. Guest list is limited and you cannot wear jeans! If you would like to join us, please RSVP the names and email addresses of you and your guests and one contact phone number to info@chicagodetours.com to get access to this private club. (Don't worry I won't do anything with your info–we just need it all in case anything comes up. You know, blizzards happen around here.)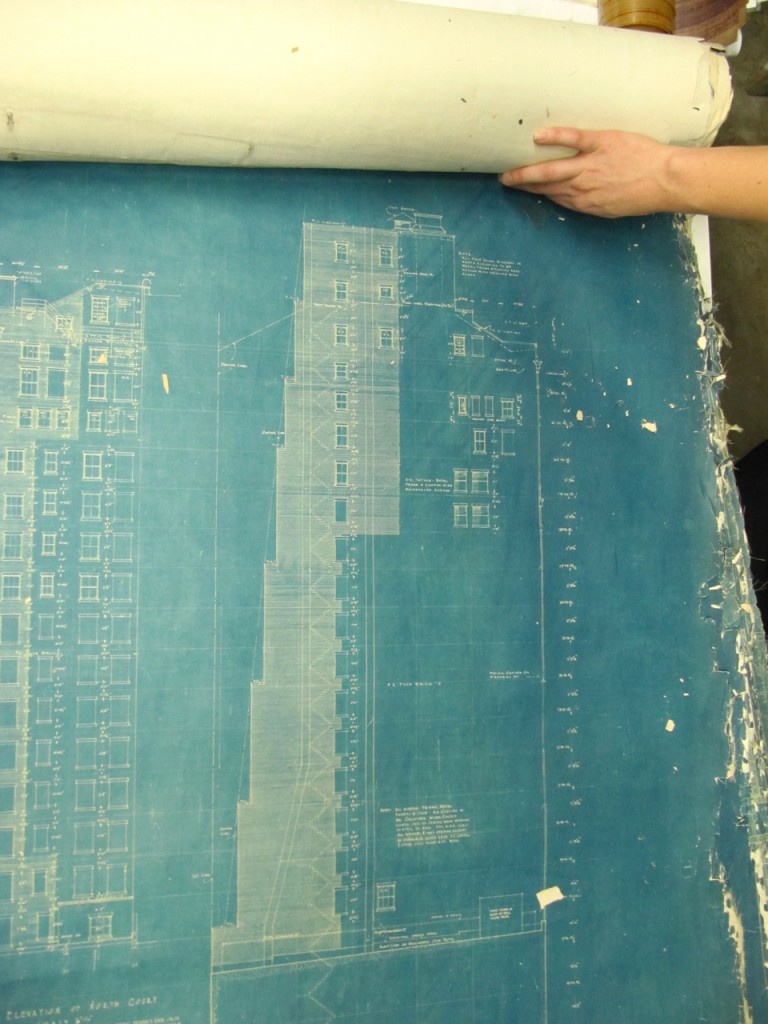 Some of the historical and architectural information I'll present comes from my academic research. I took a class on Skyscrapers for my Masters program at the University of Chicago. During it, I went sleuthing around the Union League Club's archives and had a lot of geeky historic fun. They have an incredible collection of materials relevant to both the club's history and Chicago as a whole (p.s. if you want to visit the Archives, contact the very helpful Anita at amechler@ulcc.org). And of all things, the archivist and I explored the club basement and discovered some completely forgotten historic blueprints of the architecture, pictured above.
Architecture of the Union League Club
This skyscraper was built by the Union League Club in 1926 with Chicago architecture firm Jenney, Mundie & Jensen. You may be familiar with their iddy-biddy three-window-wide Lakeview Building on Michigan Avenue, across from the north end of the Art Institute of Chicago.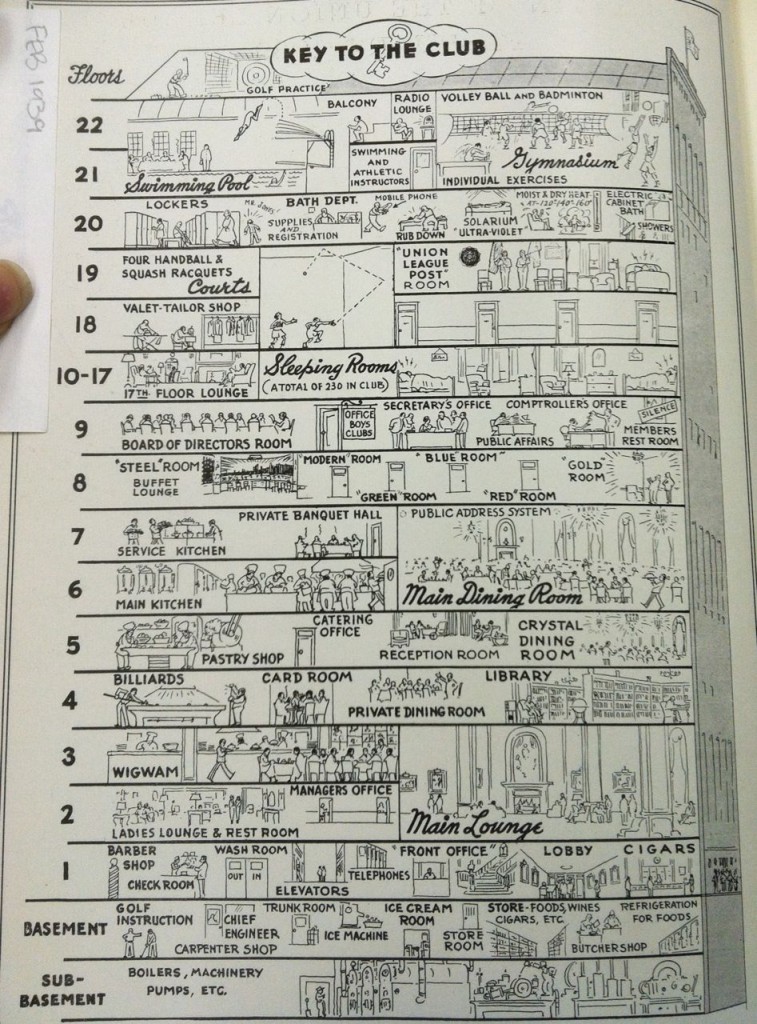 The map of the Union League Club from 1939 pictured here shows it's architectural layout as a cross-section. Yes, those are my fingers. Here you can see that this was a mixed-use building. People think that mixed-use approaches to architecture are something new. But in cities, especially in the early 1900s, multiple services and varied spatial divisions were requirements. After all, how would you fill up all the space in a skyscraper. And by the way, do you see there's even an ice cream room in this picture? It's long gone. Why would anyone in their right mind have gotten rid of the ice cream room? I'll have answers on some fun questions, as well as the nitty gritty of architectural history, at the discussion.
We'll dig in to the background of this 22-story building. I'll also cover how the architecture of the private club building differs from other examples of downtown architecture. The talk will be about 40 minutes long, and we'll have time for Q & A. We're sharing this with our Chicago Detours community because I say the more the merrier–just remember to RSVP if you'd like to join us for this Architectural Presentation, "The Cultural Relevance of Private Club Architecture."
— Amanda Scotese, Chicago Detours Executive Director