Let's focus on a seemingly mundane material for a moment – corten steel. A guy named Mark Kurlansky has gotten really into telling history through a mundane commodity, food, or event. He wrote Cod: A Biography of the Fish That Changed the World in 1997 and Salt: A World History in 2002. So why not this specific kind of steel?
Here, our story begins with metallurgical magic at U.S. Steel, just a hop southeast of Chicago in Gary, Indiana—birthplace of Michael Jackson. It's also the birthplace of corten steel. An alloy that emerged from the furnaces as a new blend of steel strengthened as it weathered with age. They called it "corten steel," or also "weathering steel." It's name came from a shortening of "corrosive tensile." "Tensile" refers to tension with the ultimate meaning of the word that as it corrodes, it increases its tension .
With 2% copper content, it has a warm, reddish hue. Corten steel became a material of choice across disciplines and boundaries. It was admired for its textural qualities in the plastic arts, durability and affordability in construction, and its industrialist aesthetic in the architectural discussion of the developing "International Style" of the post-war building boom era.
Chicago has a unique role in bringing this otherwise humdrum industrial material to more diverse projects beyond the cars, 18-wheelers, and freight trains that pass us. Like many practical materials, artists love to get their hands on new media for their creations. Our city has an impressive collection of public art, and several are made of corten steel.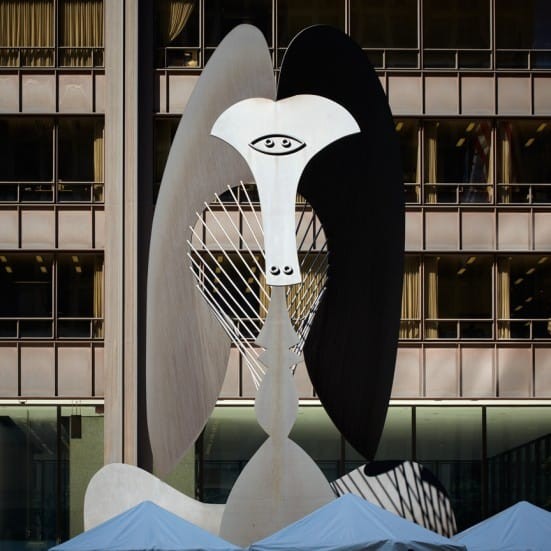 John Deere's global headquarters in Moline, IL was the first public structure to utilize "corten" as a building material.  Two years later, the epochal Daley Center and Plaza debuted in 1964 and 1967, respectively.  The championed modernist building utilizes a skin of the material, and the plaza hosts Picasso's unnamed sculpture, which was fabricated with that same steel.  The thousands of people who joined us on public tours, when we offered them from 2010-2020, learned about the meaning (or lack thereof) for this iconic Chicago sculpture.
Many Chicagoans may recall sliding down the sculpture as a kid (or as an adult – why not?) And the reason why this sculpture is so great to slide down is because indeed, slides used to be made of this material on playgrounds around the country.
In 1969, Chicago welcomed the corten hue of the facade for the Time-Life Building, designed by architect Harry Weese.
In 1990 the Chicago Park District added Richard Serra's first contribution to Chicago, Reading Cones. You can find it in Grant Park, at the intersection of Monroe Street and Columbus Drive. Also constructed of corten, this sculpture is one of many that Serra made with the material. In fact, it has become a hallmark of his monumental sculptural works. While Reading Cones collapsed at Leo Castelli Gallery in New York two years prior to its permanent 1990 relocation to Chicago, it has maintained a generally civil relationship with Chicagoans, including a vandalization that was kindly executed in chalk! His sculptures have often been polarizing, particularly because he would enjoy putting them directly in the paths of people's foot traffic.
– Chicago Detours Staff