Being a Chicago Detours tour guide is very often a terrific job. We get to show people around a city we love and illuminate its history and architecture for them. Tour guests, especially those on custom tours, often ask us how we got into being a Chicago Detours tour guide or other questions about our backgrounds and interests. We figured, why not ask those questions ourselves? Next up is Detours guide Marie Rowley, Marketing Manager and Tour Guide extraordinaire.
1. How did you become a Chicago Detours guide?
I was working on my PhD in history at the University of Illinois at Chicago, and I was increasingly drawn to careers outside academia. Once I moved into the dissertation-writing phase, I started looking for work beyond academia. I loved teaching very much, and it was very hard for me to leave that and look for another path. When I found the job ad for a Public Tour Coordinator/Marketing Coordinator/Tour Guide at Chicago Detours, it seemed like exactly the kind of position that would use all the skills I had honed in graduate school– critical thinking, historical knowledge, and teaching!
2. What's your favorite public tour?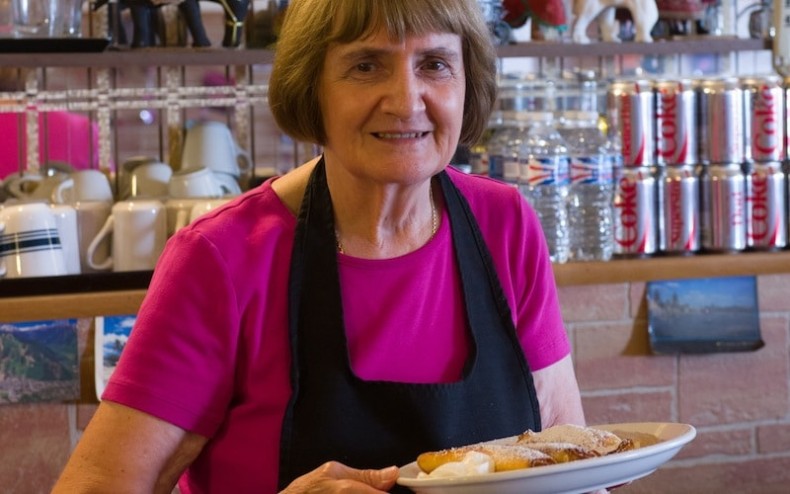 I like the Old Polonia and Wicker Park Walking Tour with Food. It is so much fun, and the food is delicious. Getting soup and pierogies at Podhalanka is the highlight of my week when I'm leading this tour, and when I step through the door and Halina and Greg greet me like a regular it makes me feel so welcome. It's also so interesting to talk about the themes of neighborhood change with my guests, often locals from the neighborhood or nearby. The architecture is also stunning too, from Holy Trinity Cathedral to Beer Baron Row to bank in a Walgreen's.
3. What's your favorite private tour?
My favorite private tour to lead is the Chicago Highlights: Detour 101 tour. It allows me to explore the broadest range of topics with guests as we travel by car or bus throughout Chicago. It's a delight to really show off the city that I love and to see people react to the magnificent views of the skyline or interact with our beautiful public art. Plus, on small private tours, we ride in a Tesla which is SUPER COOL.
4. What downtown building do you most love taking tour guests into? And outside of downtown?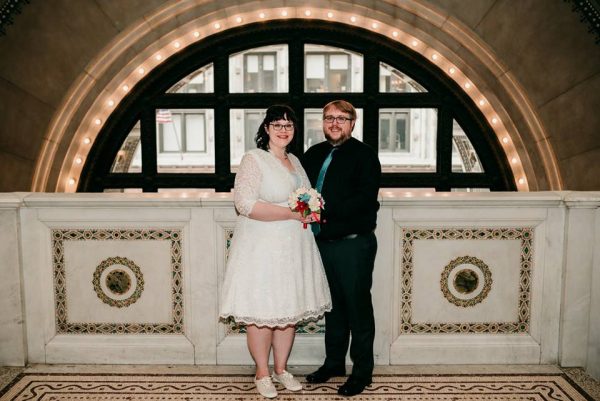 I love taking guests into the Chicago Cultural Center during the Loop Interior Architecture Tour or a Chicago Highlights Tour. It's a jaw-dropping space that most have never seen before, and it's dear to my heart because it's the building where I got married.
5. Is there a Chicago building that's been demolished that you wish was still around?
I wish the 1893 World's Fair had been preserved so we could really appreciate its scale and beauty today. Then again, as we discuss on the 1893 World's Fair Walking Tour, one of the reasons it still captures our imagination is because of its brevity, so perhaps if it was still around we wouldn't appreciate it as much.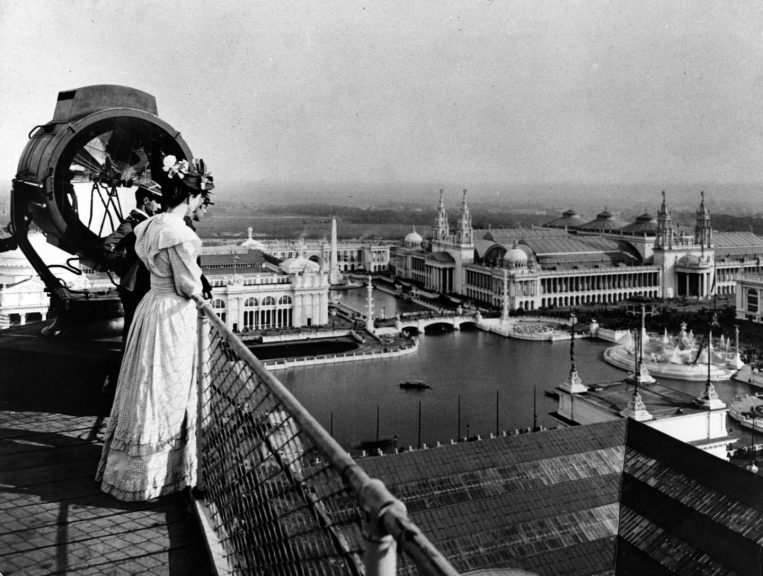 6. What's your best memory as a tour guide?
One march day, I was leading a Loop Interior Architecture Tour. The weather was a bit grim and cold. About halfway through the tour, we came out of the Chicago Temple building and a gentle, gorgeous, fluffy snowfall had just started. So we had gone into the building a little downcast about this grim winter weather and we emerged into this magical winter wonderland, right out into Daley Plaza to talk about the Chicago Picasso. It was really a beautiful sight.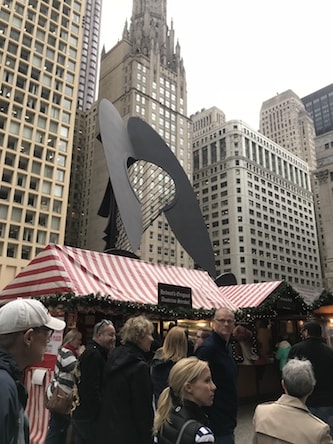 7. A Chicago book or novel to recommend?
For non-fiction, I recommend I've Got to Make My Livin': Black Women's Sex Work in Turn-of-the-Century Chicago by Cynthia Blair. Blair was one of my advisors at UIC, and this book is an incredible example of how historians can illuminate forgotten or overlooked lives from the past with hard work and creative research.
I'd also recommend a novel, for folks who are interested in crime or thrillers: The Shining Girls by Lauren Beukes. It follows a time-traveling serial killer as he stalks his victims through the streets of Chicago in many different eras.
8. What's next on your Chicago reading list?
I'm long overdue to read Robert Sampson's Great American City: Chicago and the Enduring Neighborhood Effect.
9. What's your second-favorite city?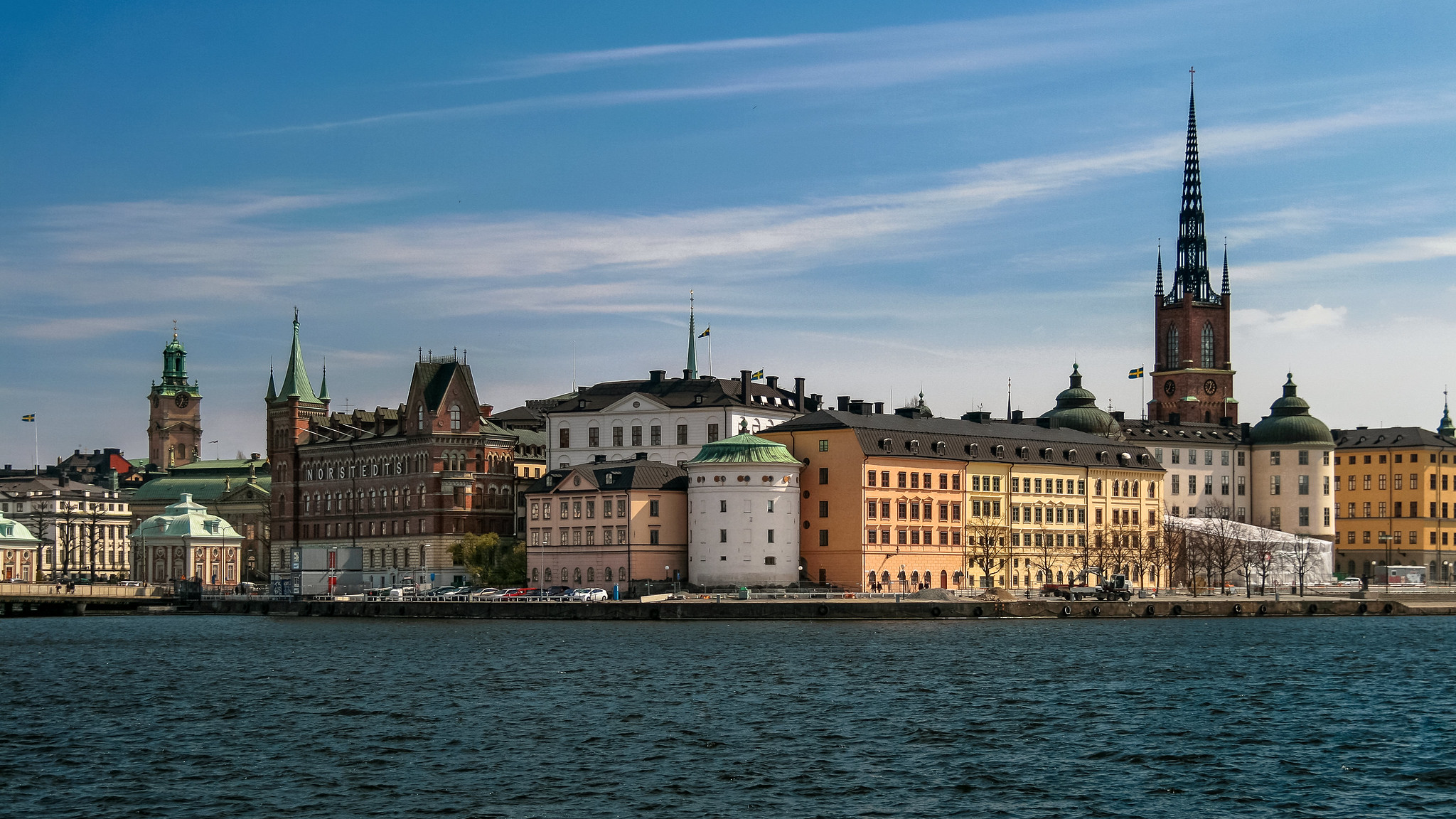 I've got to say my dear hometown, Las Vegas. Go Golden Knights! But it may be tied with Stockholm, Sweden. For my birthday in 2017 my husband and I rather spontaneously booked a vacation to Stockholm. It turns out you can get some great travel deals if you're willing to visit Sweden in January! The weather was actually comparable to Chicago, so we didn't mind, and the city was stunning and endlessly fun. We fully embraced the Swedish tradition of the daily fika, or coffee break, and we were in Sweden just in time to try out some semlor, which is a rich, custard-filled pastry that is only available in the days leading up to Fat Tuesday!
10. Neighborhood or suburb you'd like to explore more?
Until recently I have been car-free in Chicago, so there are a handful of neighborhoods that were a bit time-consuming to travel to by public transit that are now high on my list, including Hyde Park, Chinatown and Bridgeport.
11. Favorite local brewery or distillery?
I'm not much of a drinker, so I'm going to shout out my favorite local cafe instead– Spoken, on Montrose. They grow some of the produce they use in the cafe, and try hard to source everything else from other small local businesses. They make the best sandwiches, make their own jams and jellies, and it goes without saying that the coffee is 1000 times better than any you'll find at a chain.
Big thanks to our fabulous Detours guide Marie for answering our questions and for being the glue that keeps the whole operation running.