People often come on our custom private tours of downtown and Chicago neighborhoods and then get inspired to learn more. "What are some of the best books on Chicago architecture"? In our opinion, these are the quintessential books for learning about Chicago architecture, planning, and history.
We research stories from Chicago history, architecture and culture like this while developing our live virtual tours, in-person private tours, and custom content for corporate events. You can join us to experience Chicago's stories in-person or online. We can also create custom tours and original content about this Chicago topic and countless others.
This book is a standard reference for anyone wanting to learn about Chicago buildings. Is there an old brick building on your block that intrigues you? Or a very new development that you are wondering about? You can look it up in this book and the buildings most notable for their architecture and history will have brief write-ups that explain the year built, architect, and striking characteristics about the architecture. This book also gives some great overviews of neighborhood history.
This book examines Chicago from the perspective of environmental history. Wait, what's "environmental history?" Cronon chronicles how the growth of the massive metropolis of Chicago consumed the natural resources throughout the midwest. Chicago gobbled up anything from the Great Plains to Northern Michigan. This book blew my mind. The book doesn't focus on architecture, but it explains how Chicago could become such a mecca for buildings.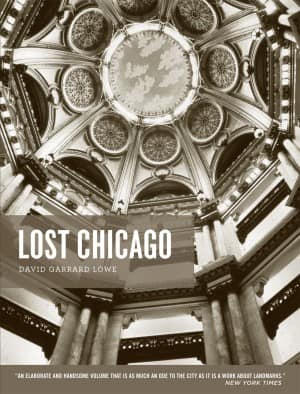 This seminal work proposes that…gasp…Chicago's development wasn't fueled by commercial consideration alone. Cultural and aesthetic forces helped shaped the city we know today. I really like how the chapters divide the landscape of Chicago thematically, as Bluestone explores park designs, civic buildings, and churches, too. This book on Chicago architecture ultimately gives you an entirely new perspective for the social and cultural forces that have shaped how the Chicago landscape looks today.
So often our desire to learn about Chicago architecture comes from the buildings we see, but what about all the buildings long gone? The city changes and grows, and part of that process is demolition. This book of Chicago architecture shows beautiful photographs of the buildings and spaces that we wish were still around. Your heart will drop seeing the gorgeous grand bar that was lost as the side of Louis Sullivan's Auditorium Building was torn off for the creation of the Congress Street Expressway in the 1950s.
Start with these, the best books on Chicago architecture. Then we can start talking about books on Chicago architects, such as Louis Sullivan or Frank Lloyd Wright.
— Amanda Scotese, Executive Director
ABOUT CHICAGO DETOURS
Chicago Detours is a boutique tour company passionate about connecting people to places and each other through the power of storytelling. We bring curious people to explore, learn and interact with Chicago's history, architecture and culture through in-person private group tours, content production, and virtual tours.