Long before I became a Chicago local, my first ever visit to Chicago was for the international interior design convention, NeoCon, which takes place every year in June at the Merchandise Mart. This was when I fell in love with Chicago and found myself in awe of the city and its buildings. I tried to take in as much of the city and the convention as possible. I was especially blown away by "the Mart," a truly massive Art Deco building.  With these fond memories, I decided to look into the history of this building, interior design, and the NeoCon convention.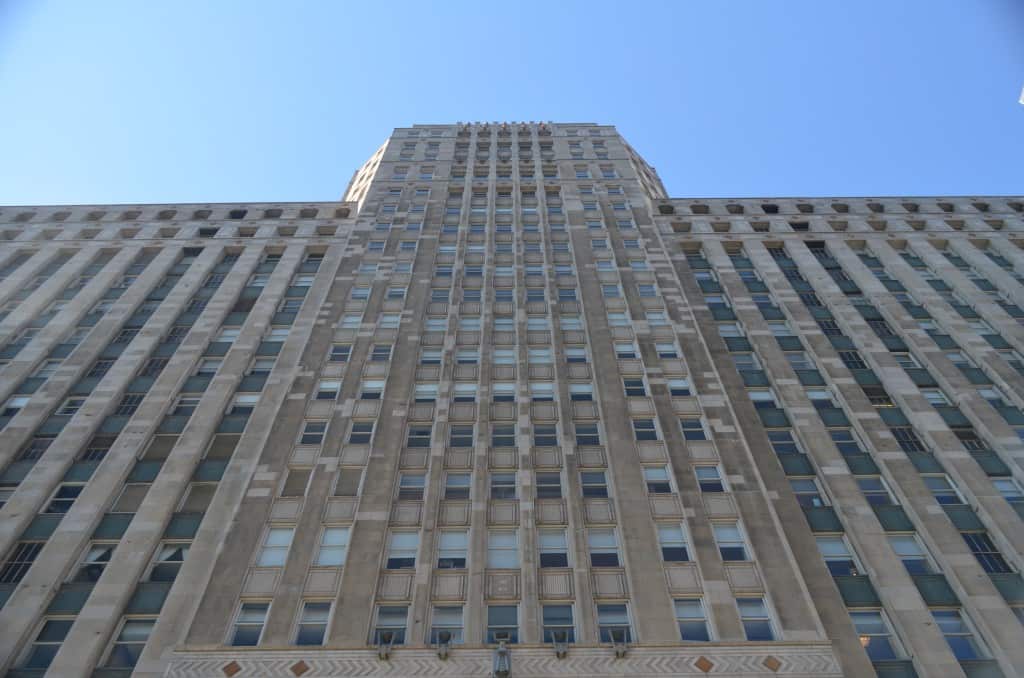 NeoCon and the Mart
First of all, lets talk about the location of NeoCon. Taking up a full block, the Merchandise Mart was once the largest building by square footage in the world. It is still in the top 50 and has claim to its very own zip code. Architects Graham, Andserson, Probst and White designed the building in the Art Deco style and it clearly represents Chicago architecture as a combination of three building types: a warehouse, a department store, and a skyscraper.
These building types were chosen because merchandising giant Marshall Field and Co. built the Merchandise Mart as a wholesaling facility for the growing needs of their retail empire. On the south side of the building along the river, you will see his patina bust proudly displayed as part of the "Merchandise Mart Hall of Fame." His face is joined by other department store moguls such as Frank Winfield Woolworth and Aaron Montgomery Ward.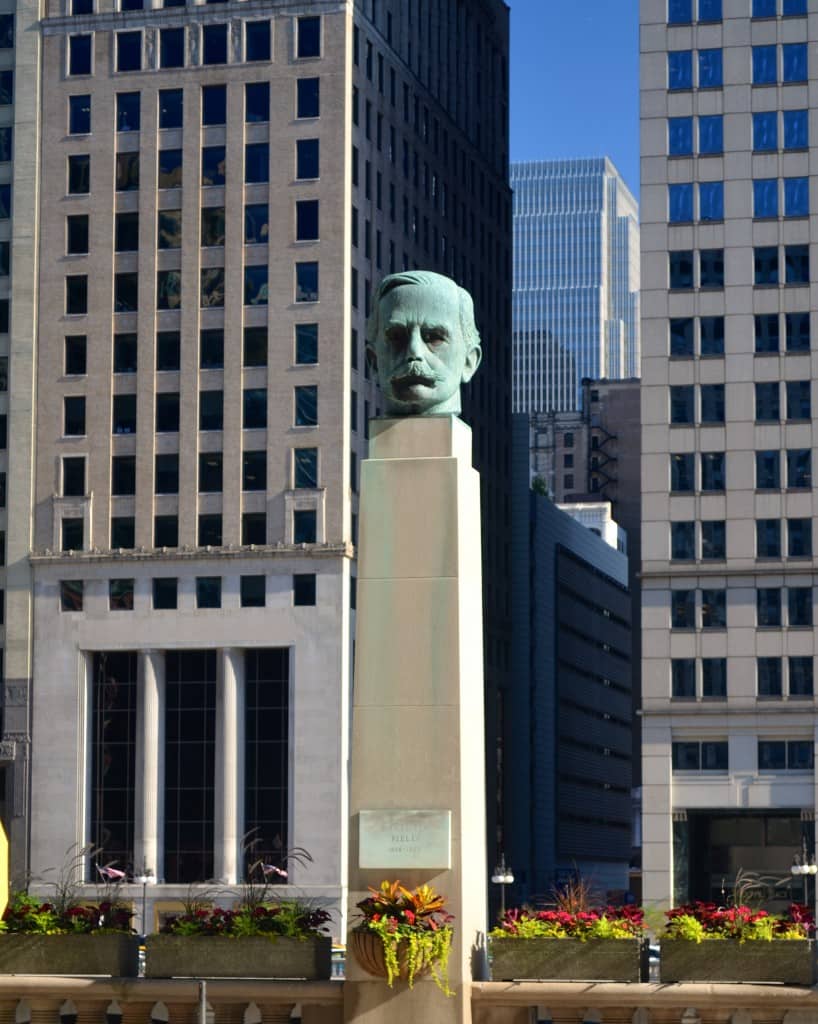 Having researched the history of Marshall Field and Co. for our Loop Interior Architecture Walking Tour, I also knew that Marshall Field's on State Street had once had an entire model home on the 7th floor with all the latest furnishings of interior design. This made me wonder if there was any connection between the department store and the interior design convention.
Interior Design History
The profession of interior design grew out of the sale of furniture. As prosperity increased through the late 19th century, furniture companies expanded their lines. They offered full lines of home furnishings in a number of different styles. Because of this, furniture manufacturers became advisors about the latest interior fashions. They even offered amateur design services to customers. Retailers like Marshall Field found that displaying these lines in model home showrooms was a valuable advertising tool.
The retail and furniture manufacturing industries eventually separated from the industry of interior design and decoration, but its roots are still there. Showrooms are still one of the most tangible and effective tools in selling design products from furniture to wallpaper. So it's natural that a building and a city so tied to that early industry has become the home to one of the largest trade show in contract interior furnishings in the world.
A Fitting Venue and an Annual Highlight
The Merchandise Mart was designed for retail and design showrooms. It was once the largest producer of trade shows in the country. Architects Graham, Andserson, Probst and White designed it as "city within in a city," a concept later used by other architects including Bertrand Goldberg for his Marina City and River City, both right here in Chicago. To satisfy the needs of trade show attendees the building included a number of modern amenities like restaurants and lunch counters, a beautician, optician and a barber. And because the building once had its own zip code, a post office serviced tenants. It is still there today along with many of these amenities. Guests always seem blown away by its scope on our Private Boat Tours.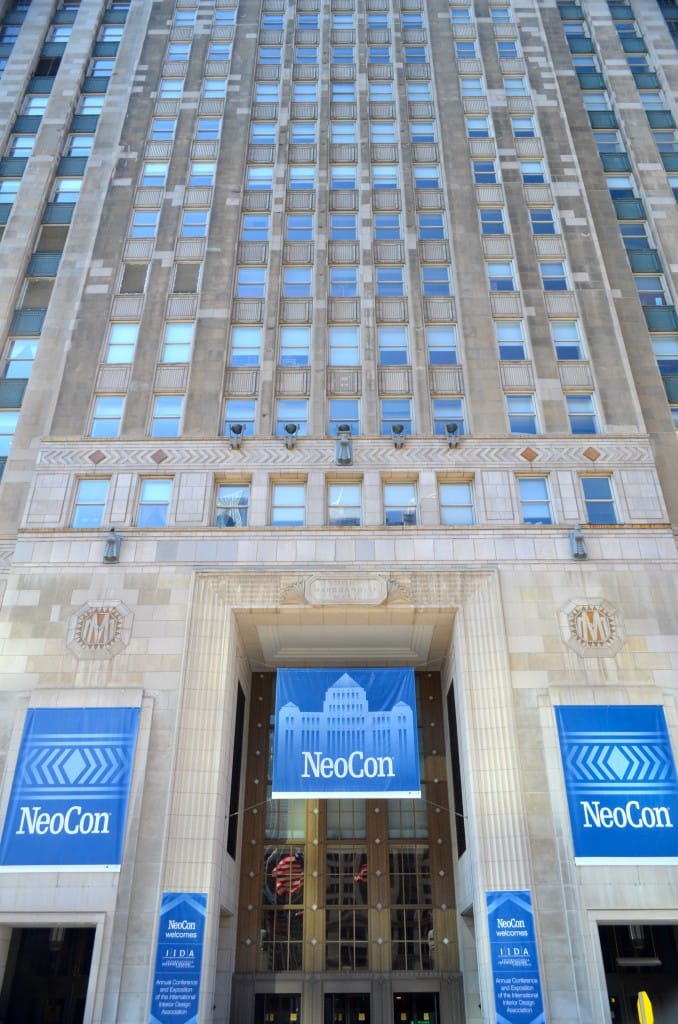 Chicago hosted the first NeoCon in 1969; it coincided with that year's American Institute of Architects convention. Today, it's now a must-do event for designers across the country regardless of timing. Thousands of exhibitors flood the city's hotels and many permanent showrooms fill the floors and floors of the Merchandise Mart for three days every June. And now we are gearing up for NeoCon 2015, June 15-17!
— Jenn Harrman, Tour Guide