Summer is here, and with it comes the excitement of outdoor fun and swimming in Chicago. Often on our walking tours, I am asked, "What is your favorite thing about Chicago?"
"THE BEACH," I respond without hesitation. Any free afternoon I get this summer, you'll find me at a Chicago beach, swimming in the water and picnicking with a book. Today, Lake Michigan and its beaches provide obvious beauty as well as recreation, exercise, and nature to locals and tourists alike. Historically, Chicago's lakefront was not always a desirable site, nor was it so accessible. I decided to dig deeper into the history of Chicago's beaches and swimming in Chicago, generally.
I had always heard that Chicago beaches are built on the debris created by the Great Chicago Fire in 1871. Dumping debris in the lake seemed like an easy answer to the volume of destruction. With a little research, I found that land-filling in Lake Michigan solved an erosion problem as well as generating more city land, so it became quite popular, quite quickly.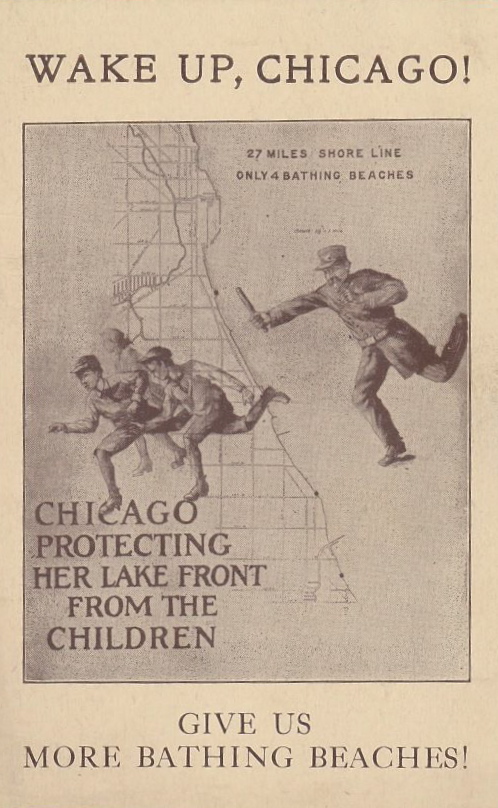 These first public beaches came out of work done by progressive women, like Dr. Sarah Hackett Stevenson through the Municipal Order League, a women's reform organization. She urged Chicago to make use of "nature's tub" as relief of sanitary conditions within congested, working neighborhoods. Glamorous, right?
The very first public bathing beach of Chicago dates to 1895 at the shore between Fullerton Avenue and Diversey Parkway, as a part of Lincoln Park. Until this point, it isn't that there weren't any beaches to let people go swimming in Chicago; it was that beaches were private affairs belonging to clubs and hotels, which meant they cost money. Only the highest class of Chicagoans traveled north of the city or across the lake for bathing beaches.
The Lincoln Park beach was free if you wore your own suit or a nickel to rent one, if you can imagine, and it established that working class people could be bathers, too. A Chicago Tribune article of the same year about the perfect lakefront trail bike ride describes this Chicago beach, where you could have witnessed "the antics of the hundreds of little newsboys in swimming" for endless amusement. At this Chicago beach, bathers were separated by gender not only when they changed their clothes but also when entering the water.  The Tribune article describes a rope that divided the swimming area to keep things proper and modest between the sexes.
There were also tough restrictions on what was considered proper attire to swim in Chicago, and breaking these dress codes was an offense that could lead to arrest. Consider the costumes necessary to swim in public shown here; bare knees would not be admissible for several years to come.
Remember the Chicago River at this point still flowed into Lake Michigan, bringing sewage into it. In 1900, the Sanitary and Ship Canal was completed to aid in the reversing of the flow of the river.  The positive effects of this reversal on the cleanliness of the lake water took a few years to become evident. Desire to go swimming in Chicago's section of Lake Michigan grew as the quality of its water improved. In 1909, the Chicago Council established a Committee on Bathing Beaches to better meet the growing demand for more public beaches. The same year, Daniel Burnham's Plan of Chicago was released, which called for the lakefront to be reserved as park space as well as several Chicago beaches as part of the urban design for the city.
From the Great Fire to the Burnham Plan, Chicago beaches are a hodge-podge of public and private efforts.  The idea of a consolidated Chicago Park District doesn't happen until 1934, as the city responds to the difficulties of the Great Depression and attempts to access New Deal assistance. This puts both the vast sands of the south and the street-end beaches of the far north under one administration and continues construction projects that had been on hold since the crash. The Chicago Park District continued to acquire private beach property into the 1950s.  Today, Chicago has more than 26 miles of public beach, which afford endless opportunities of free swimming in Chicago's Lake Michigan.
If Chicago beaches aren't your scene, stay tuned for Part Two, where we'll explore the history of Chicago's public pools.
— Elizabeth Tieri, Chicago Detours Tour Guide