Some architects have slipped through the fingers of Chicago historians, causing them to be largely forgotten by our city and its residents. These include architects who built our schools, hospitals, homes, and bridges, structures used every day and overlooked as banal rather than garnering the attention they deserve. One such architect is Dwight H. Perkins. Known best for his Lion House at the Lincoln Park Zoo and Carl Schurz High School on the North Side, Perkins may not be mentioned alongside Louis Sullivan and Frank Lloyd Wright, but he was talented, well-respected, and gave a lot to this fine city and Chicago Detours wants to give this man a serious shout-out.
Dwight Perkins, Prairie School Architect
I discovered Dwight Perkins one rainy day about 6 years ago after happening upon the office building of Perkins, Fellows, & Hamilton. The little building seemingly spoke to me, its quaintness was beautiful, yet it had this ability to stand strong among the vastness of the Park Hyatt tower standing next door. I started to research the building and its architects and quickly became entranced by its awesomeness, and its history, too. The building began my interest in historic preservation, as it is just one of hundreds of buildings in Chicago with the facade as the only remaining original portion of the structure.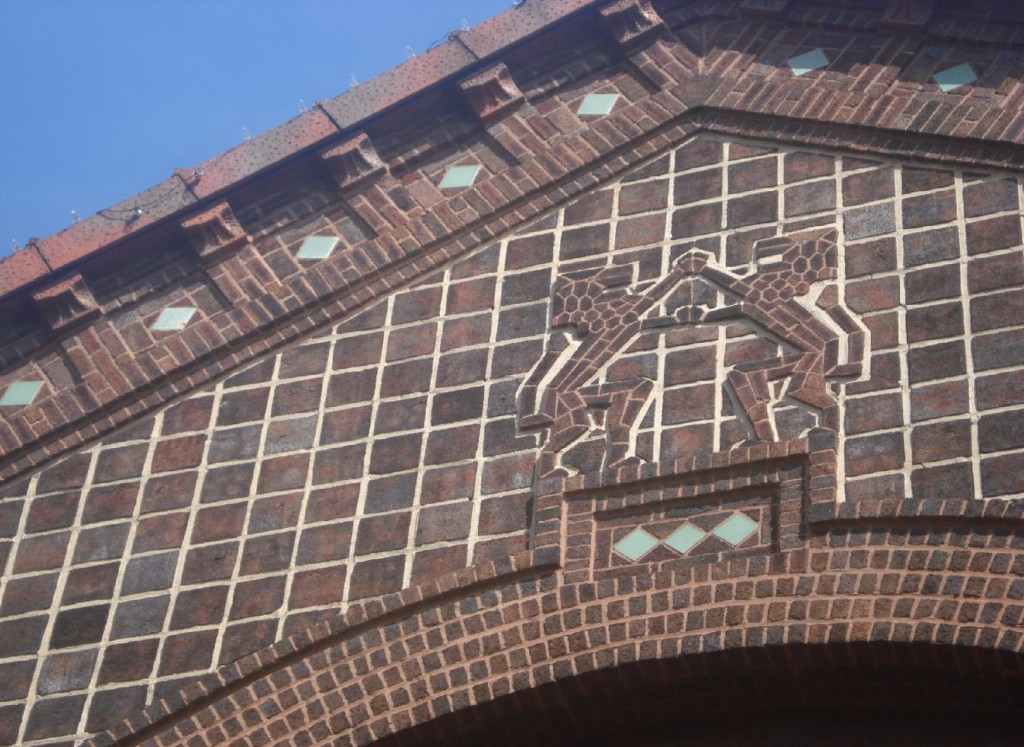 Lincoln Park Zoo Architecture
Perkins' most visible project was the Lincoln Park Zoo Lion House, built in 1912, which is still home to lions, tigers, and bears, oh my. (And other large cats, too) The building, constructed out of brick and featuring iron detailing, also features mosaics of two lions facing one another in the shape of the keystone of an arch on opposite facades. Inside would be somewhat dark if it weren't for the brightening of effects of the white-glazed terra cotta ceiling, shaped in a woven pattern, and also the clerestory, a horizontal line of windows towards the ceiling.
Perkins was also the man behind two other Lincoln Park buildings: Café Brauer and North Pond Café – which was originally a warming station for North Pond ice-skaters.
When Perkins built what is now Café Brauer in 1908, he probably never could imagine the bridezillas which would later run through this gorgeous structure. This curved building, following the lines of South Pond, has two mini-plazas connected by a large center section of two split stories connected by a loggia, a vaulted covered walkway. You used to be able to come here to rent huge swan paddleboats for rent, and now the area has recently been restored to resemble a typical Chicago-area ecosystem. It's always nice to point out these structures to guests on the Chicago Highlights Detour 101 Bus Tour.
Beautiful Cafe Brauer
Café Brauer is the modern name for the building that was originally South Pond Refectory; however its modern moniker comes from a restaurant of the same name that resided in the Refectory in the early 1910s. Generally blocked off from public view but popular as a wedding venue, the Great Hall on the second floor features a remarkable glass ceiling, flooding the room with sunlight. Surrounding the base of the skylight are multiple small murals of the original landscape of the Chicago-area. I love the story of these murals. Perkins' wife, Lucy Fitch Perkins, painted them, and she was a children's book author & illustrator. It is a wonderful little anecdote that fits the couple completely, as from the 1956 biography written by the couple's daughter they did most everything in life together, including the decoration of his buildings.
To see more of his work, you can visit some of his more easily accessible buildings like the former architectural studios of his firm Perkins, Fellows, & Hamilton at 814 North Michigan Avenue or Charles Hitchcock Hall at the University of Chicago campus in Hyde Park.
— Hannah Allen, Research Intern