This post is a little personal. This past weekend marks one year since I first led a tour as Chicago Detours. I've been too busy to notice time passing. I have more grey hairs, and I realize that my business is still in infancy.
Already a Year Old
The workaholic syndrome hit once I started. Try throwing yourself into complete financial uncertainty– yes, you will work 7 days a week and stay at the office until 10pm! And what makes people take on the risk of starting a business? My top motivations were wanting a job that is both intellectually stimulating and creative, and to share my fascination with culture, history and architecture and love of teaching. I wanted a job that's about 50% solo work, 50% social. It seemed perfect.
I didn't start this company because of a love for tours. Rather, because I've been on horrible ones! Tours can dull the most amazing stories and concepts.  My favorite tours I've been on had to do with unexpected factors: the ghost tour/pub crawl of Savannah, GA in which my cousin, sister, brother and I were pretty much entertaining the tour guide rather than the other way around, and the Double-Decker bus tour in NYC with a hilariously bitter actor-turned-tour-guide who had only superficial bits of history to share.
Why I Started Detours
I started Chicago Detours because I believe that connecting with the character of a city and its people can be a quite meaningful aspect of travel. Chicago has so much more to offer than Navy Pier and the Mag Mile. And so much of its culture is not behind the walls of museums, but right around us. Chicago Detours wants to make travel interesting, meaningful, visually engaging, and fun.
Passion is key in being an entrepreneur. I once got in a debate with a guest on a tour in Italy (I worked as a tour guide there). He asked me about Rick Steves' business model, how he ended up with his travel empire. I said that he had a belief that there's a better way for Americans to travel Europe and that travel can be a political act. The man I was speaking with said, "No, he had to have started with a business plan and projections, and strategized the different media to take on," referring to Rick's guidebooks,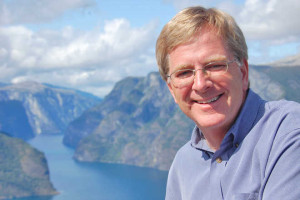 newspaper columns, and TV radio shows. I disagreed, knowing more background about Rick's go-with-the-flow style of running business (at least in his earlier days). This man could not accept that a business could be built on passion. I don't see an alternative myself. Obviously if I was in this for money, I would have started a different kind of business. If the tour business was so lucrative, then you wouldn't see so many volunteer guides and docents with other companies. Money-hungry people are gross, and people know that – they can sense it. A business can't be based solely on dollars.
What I've Learned
I realize now that thought that the number one character trait needed to start a business is not courage, integrity, or passion – it's pure, utter naiveness. I had no idea what I was getting myself into when I started Chicago Detours. With my experience as a guide and comfort with public speaking, I was brimming with ideas for cool tours of Chicago and confident that people would enjoy them. But after minimal promotion, I started doing the tours and waited at the meeting spot….for no one! It was a bummer. I've taken a crash course in marketing over the past year, and this now comprises about 90% of my days. And while it kills me to see not-your-average tourists around who surely want exactly not-your-average tour, I realize that part of marketing just takes time.
If you look at our press page, you see that we've gotten some great exposure. We have a crew of top-notch guides – people who know the city inside and out and can talk in-depth about concepts of city history and everyday life rather than just spout out a list of memorized facts. Couple this exposure and great team with our sleek website and 5-star reviews on Yelp and TripAdvisor, and one would think we really have our act together. We do, but I'll be honest – lately we often cancel tours because of low enrollment, and though it's the middle of July, our business is nothing near where we projected. It will be years before we are in the tour guidebooks, and years before word of mouth has spread to a point of having truly achieved success. It is, after all, only a year yet.
Celebrating and Planning
This Saturday we did a Jazz, Blues and Beyond tour and as usual, stopped by Chi Bakery. Owner Tia had a special gift for us – balloons and a giant birthday cake! Tia and I are both new business owners, and I really love supporting what she does, which isn't hard to do considering how tasty everything she makes is!
Chicago Detours future plans? We can't tell all our secrets, but we are working on a proposal for scalable mobile apps and further our development of top content through the blog, resources page, monthly email, and perhaps a book proposal in the works, too! We'll be working more with convention and business groups, too.
Thanks for being a part of Chicago Detours and watching us grow up.
– Amanda Scotese, Founder and Tour Guide