With the recent popularity of craft Chicago distilleries, it seemed appropriate to dig into the history of Chicago distilleries. It's difficult to know who is worth noticing and who is just a flash in the pan of Chicago's drinking scene. I knew I had to dig deeper when I heard that Koval Distillery was the oldest distillery in Chicago. Especially since we can customize a private tour experience around special locations like this.
We research stories from Chicago history, architecture and culture like this while developing our live virtual tours, in-person private tours, and custom content for corporate events. You can join us to experience Chicago's stories in-person or online. We can also create custom tours and original content about this Chicago topic and countless others.
Koval Distillery
On a tour of their distillery, I learned that Koval is not only the oldest of the currently operating in the Chicago area distilleries, but it was also the first distillery opened since the repeal of Prohibition. And get this–Koval Distillery only opened opened in 2008. That means that Chicago went 75 years without a single distillery! When I asked our guide why, she responded that there simply was no demand. I couldn't believe such a dry spell, especially when you consider that there is no shortage of breweries in Chicago, some of which have been around for ages.
A husband and wife duo founded Koval, a local whisky distillery. They dedicated their craft to an organic grain-to-bottle approach. All of their spirits are single barrel and can be traced back to the farmers. My favorite that we tasted on the tour was their Four Grain Whiskey. It's made from oat, malted barely, rye, and wheat. I also realized on the tour that I had been enjoying their liqueurs in craft cocktails all around town. In addition to distillation, Koval offers classes and guidance to amateurs and professionals alike.
The tour was a lot of fun for a novice like me, who barely passed basic chemistry. And yet, I needed to know more about the history of Chicago distilleries. Why did that 75 year dry spell happen? It's not like there's any question that Chicago is a town who loves her whiskey.
History of Chicago Distilleries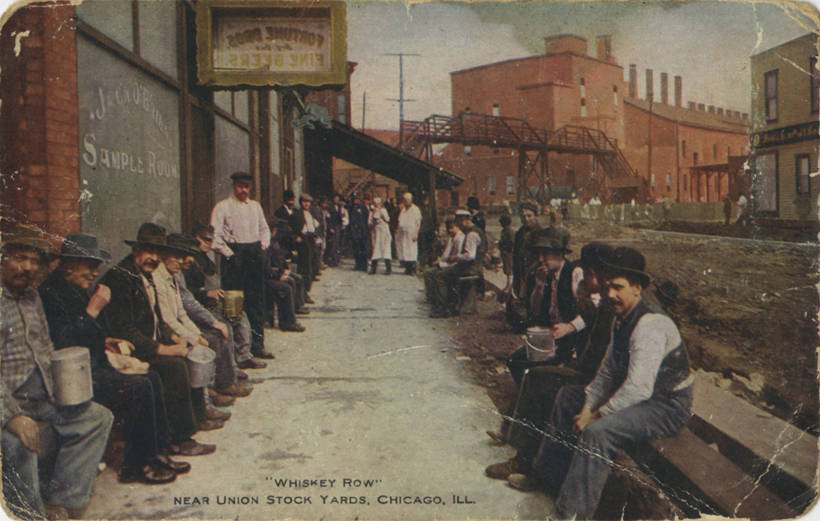 With the resources of Midwestern grain and the manufacturing and transportation industries rampant, Chicago was a logical location for distillation. In 1860, Chicago had 8 distilleries, including the Shufeldt Distillery pictured below. The number of Chicago distilleries would dwindle instead of grow, however, due to the Great Fire of 1871 and then the bullying of the Whiskey Trust in the 1880s and 90s. At this point Peoria, which is about 160 miles southwest of Chicago, was the whiskey capital of the country. Hard to believe, I know, but it wasn't in Kentucky. The city of Peoria had 73 distilleries and was the largest corn-consuming market in the world.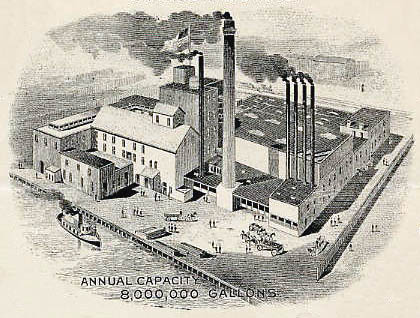 Then Prohibition happened, which we often discuss on our custom private tours. In that time, many distilleries closed or altered to manufacture other things. After the repeal of Prohibition in 1933, mostly big name companies dominated the distillery scene. That's when Bourbon County, Kentucky took the crown as the nation's lead distiller. Smaller distillers had lost their steam and never could quite bounce back. And in the past, liquor laws in Illinois prevented manufacturers of liquor to sell to anyone but a distributor, let alone let people come for tastings. Also in 2013 the amount of booze that a craft distillery in Chicago could produce and store was doubled, allowing distilling to be a more profitable venture, especially since it has such huge upfront costs.
With the locavore movement, craft distilleries in Chicago are popping up left and right and expanding at breakneck speed. In some ways Chicago is returning to its historically boozy roots, and brings with it the creativity and technology of today.
— Elizabeth Tieri, Tour Guide
ABOUT CHICAGO DETOURS
Chicago Detours is a boutique tour company passionate about connecting people to places and each other through the power of storytelling. We bring curious people to explore, learn and interact with Chicago's history, architecture and culture through in-person private group tours, content production, and virtual tours.