When I want to go swimming in Chicago and I don't have time for a trek to the lake, I head to the Park District pools. Chicago has 49 outdoor public pools in its park system. These pools are free and offer a respite from the sand and the sunbathers, as the vast majority of pool patrons are children eager to swim. In part one of our swimming in Chicago posts, we explored the history of Chicago's beaches, of which there are many. So if Chicago has such a vast lakefront, why are there also so many pools?
Swimming in Chicago Pools
While Chicago offers 26 miles of beach, the rest of Chicago is 200 square miles that is not so literally on the lake. In the late 1800s, many of the western neighborhoods were densely populated by the working and poor classes in less than desirable conditions. The majority of Chicago homes did not have electricity or even indoor plumbing for many years. Though West Side Chicago neighborhoods lacked lakefront access, they did have parks.
Thanks to the park commissions established in the 1860s, large-scale parks had been carved out of city blocks and were increasingly connected by boulevards and commuter lines. The parks offered much in green spaces for healthy recreation. Free public swimming pools in Chicago would add the benefits of hygiene while combating the high temperatures of summer in industrial Chicago. A park commissioners report furthers this importance of the public pool by stating, "A clean body usually makes for a clean mind." And goodness knows with our history of corruption and crime, Chicago was in need of cleanliness on both accounts.
German Clubs, Corpses, and Sexism
Though the reformers make a great case for godliness, the wave of public pools in Chicago really gained momentum with Chicago's German-American athletic community. Turnvereins, or turner clubs, focused on gymnastics with a twinge of morals and intellect. Their petitions for outdoor facilities resulted in the first of Chicago's public pools at Douglas Park. The earliest reports of the natatorium–the building built to house the swimming tanks–rave about the crowds, averaging almost 3,000 swimmers a day! A Chicago Tribune article from the pool's first months of being open discusses a man who drowned, explaining it took almost 20 minutes to find his body in the crowd of swimmers. Now I've seen some crowded pools in my day, but I can't imagine losing a corpse among the live, swimming bodies.
At most swimming pools in Chicago at the time, pool schedules were regimented to segregate the sexes. Often a mere two days a week were reserved for women and girls; sometimes only mornings were set aside for them. These practices would continue for decades. Douglas Park, however, had two separate pools. In addition to having shorter times for swimming, women even had shorter pools as the women's pool measured half as long.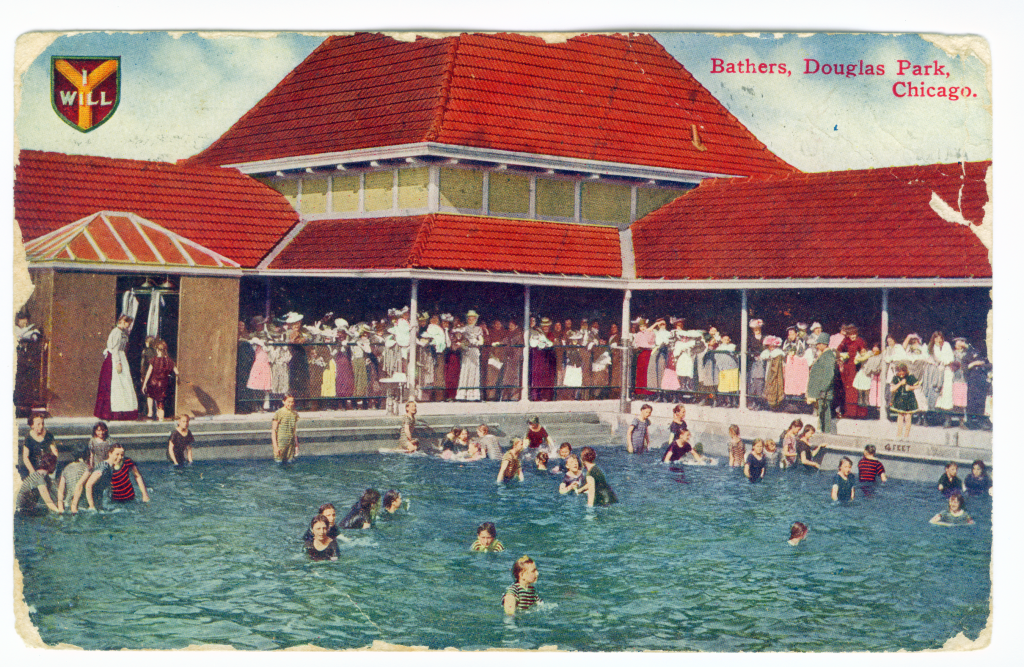 Swimming at Douglas Park was allowed free of charge after a "shower bath" for which soap and towel were provided. Swimmers were admitted on the batch plan of a new group every hour to be kicked out for the entry of the next, which accounts for the high numbers reached each day and the lines pictured below. The original natatorium no longer stands, though there is still a swimming pool at Douglas Park. The current field house dates to 1928, when architects Michaelsen and Rognstad were sweeping across the West Park Commission constructing a dozen buildings.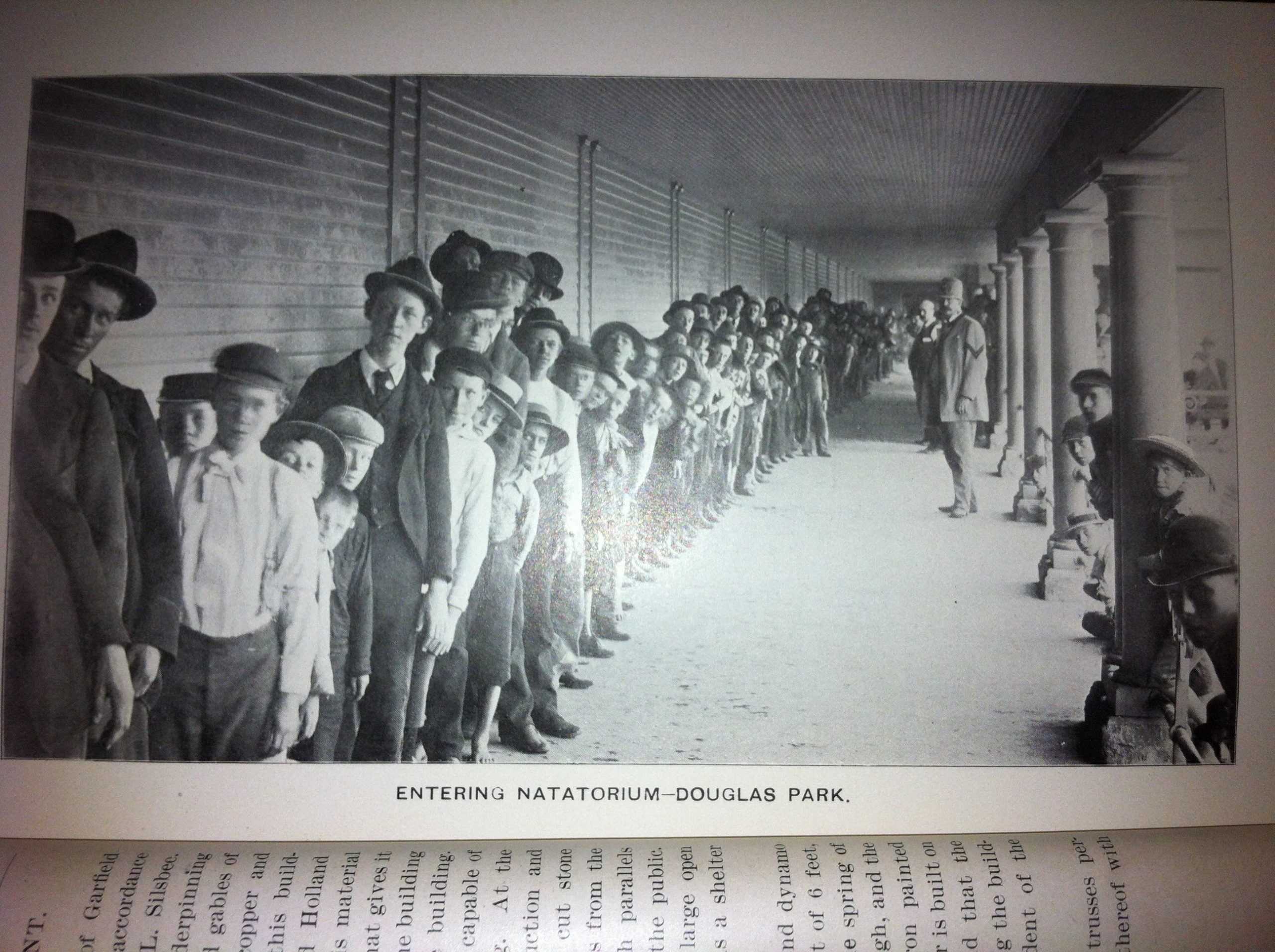 My personal favorite of the public pools in Chicago is at Portage Park. This Olympic-sized outdoor pool also has a separate, extra deep part for diving. Few things make me feel as much like a child as standing atop the high dive: too scared to jump into the pool, too embarrassed to climb down the ladder. Then that rush of wind in descent before you crash into the water.
So whether you're looking for a quick dip in the lake or a dramatic dive into a public pool, Chicago offers respite from the heat so many of us anticipated all winter long. And a great part about either option? Both the beach and the pool are free. Enjoy!
— Elizabeth Tieri, Tour Guide