This past Sunday we had our third "Detour" one-off special event of 2014 in Logan Square in partnership with Maurene of Azimuth Projects.
Art Walk Stop #1: Autotelic Studios
We started with some delicious spicy hot chocolate at Autotelic Studios and some background on this interesting space. Inside a home on a residential block, the multiple rooms house open studio spaces. Artist Alice Feldt explained the synergy that results from working in this kind of space, explaining how seeing other artists working prompts discussion, and sparks mutual influence.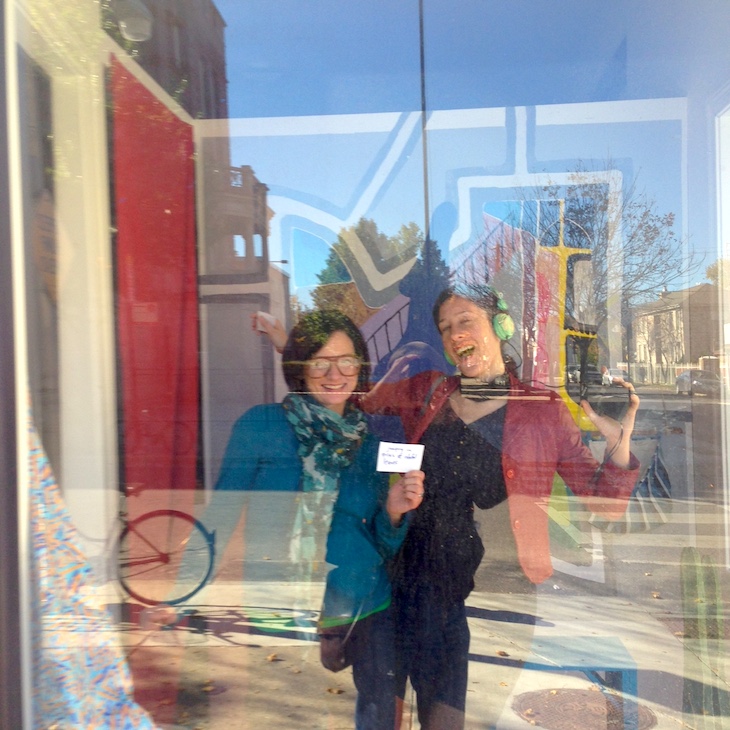 We also got to get our pictures taken in the photo booth window installation entitled "Observable Methods," conceived by Kailyn Perry and Traci Fowler. Props such as the headphones and glasses were provided. (And all the photos here are photo credit to Maurene Cooper.)
Art Walk Stop #2: Trunk Show
Then we headed up to Palmer Square, where we met Trunk Show for the unveiling of their next limited-edition bumper sticker. Trunk Show is a mobile exhibition space, housed in the back of a 1999 forest green Ford Taurus owned by Raven Falquez Munsell and Jesse Malmed. They sell the stickers by annual subscription and a la carte.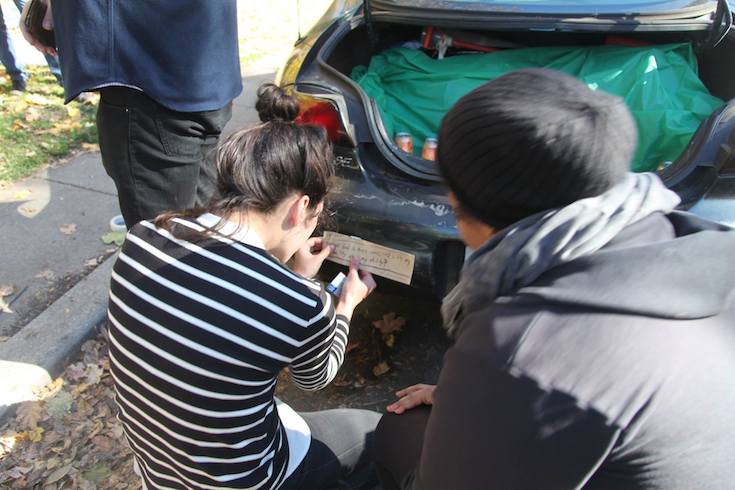 Hearing artist Kelly Lloyd speak about digging through old books to uncover the quote really opened up a cool dimension of understanding the work. She discovered the quote scrawled in a page margin: "Perhaps God is more concerned with my availability than my ability?" Lloyd said she wants to "use this opportunity to introduce a deeply private thought into a very public form."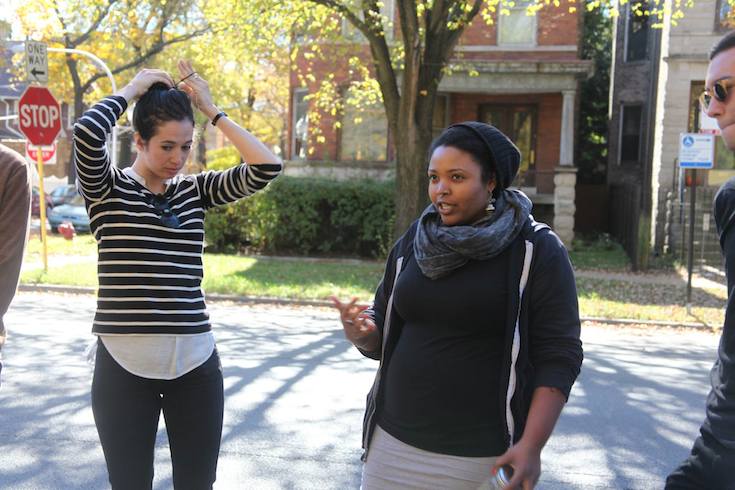 Art Walk Stop #3: It's Not a Stop – the Walk and Visual Scavenger Hunt
Then the Visual Scavenger Hunt part of the afternoon began! Everyone was given a sheet of paper with 10 photos. As we walked, they had to really look at the landscape around to match the photo with an object we pass by. The first to say "I got it!" received the prize of a work of art from the studios and galleries we visited. Some of the photos were of things we weren't actually going to pass, just to make things a little more tricky.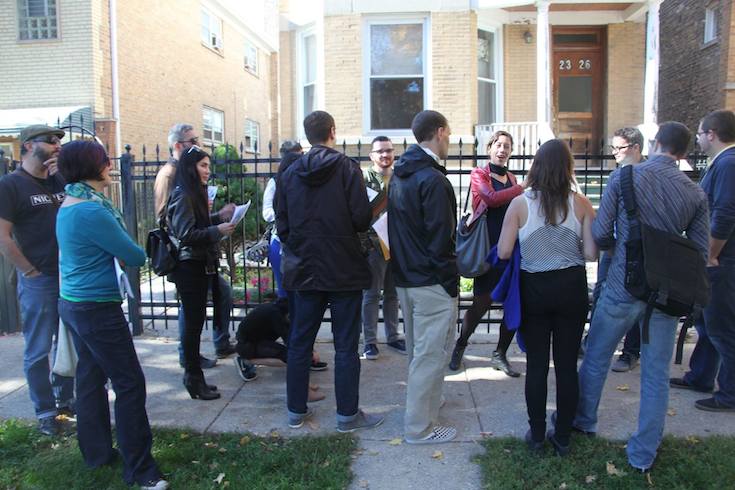 After the prize was given, I then talked a little bit about the cultural and historic background of these everyday things, such as alleys or the shapes of our houses. Even lawn ornaments have a story to tell.
Artwalk Stop #4: Comfort Station
We walked up Milwaukee Avenue, past the big strip of the Mega Mall, to the Comfort Station. Artist Matt Woodward talked about his incredible weathering process with his large format pieces. The one pictured here, for example, endured a year of the elements on his roof. Curator Jessie Devereaux provided great insight as well into the ways that these works use the space of the historic Comfort Station, and also react to the changes in light throughout the day.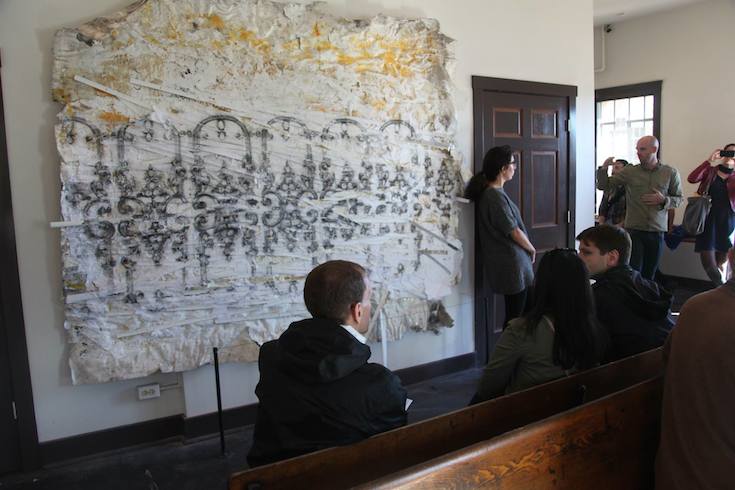 The group raptly listened to his background on his collaboration with J.R. Robinson's Wrekmeister Harmonies for the exhibition. Over a year ago Matt was inspired by one of J.R.'s songs to create a drawing. For this show, the collaboration was reversed, with J.R. composing music based on Matt's architecturally inspired works. Using tracings of mass-produced architectural decorations, which today people often romantically and erroneously admire as unique, these heavily wrought drawings disguise the commodified origins of their designs.
Art Walk Stop #5: Azimuth Projects
Then we walked on over to Azimuth Projects. After a break for wine, African rice, and butter cookies, we experienced the multimedia installation work of Sarah Beth Woods.
Sarah Beth befriended African braider Fatimata Traore, and has worked with her in her South Side salon, adding additional touches like ribbons and colored extensions. She explained her love for the tactile nature of her work, which you are encouraged to touch. She also addressed the tension between high art and craft. I admired that she spoke of the racial dynamics of her work, which so often people try to skirt around.
We had an excellent group of people, mostly from the Logan Square neighborhood, for our special event. And also one guy from San Francisco who had just hopped off a 20-hour train ride. The event was sold-out, and many people heard about it through DNA Chicago, the Daily Herald, TimeOut Chicago, and the Red Eye.
Our next one-off "Detour" special event will be in January, it will take place mostly indoors, and we will announce it soon!
Thanks for reading!
— Amanda Scotese, Chicago Detours Executive Director