When I rode by bike through the West Side of Chicago a couple weeks ago, I made sure my iPhone had a full charge for taking photos of the architecture. On my way from Logan Square (which we've designed a tour of!) out to Oak Park, I rode by the Guyon Hotel. This 1920s building in West Garfield Park is a fascinating and exotic piece of architecture.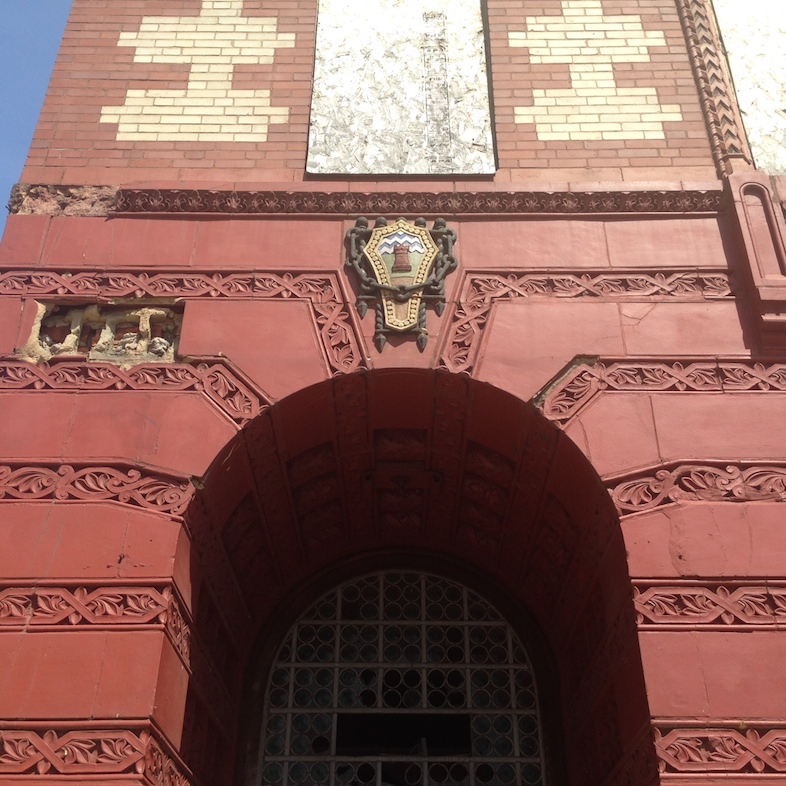 The terra cotta architectural ornamentation lends to the Spanish and Moorish style of the abandoned Guyon Hotel. And on a sunny day, that was still crisp for springtime, all the warm colors of gold, burnt siena, and deep orange made for some delicious architectural eye candy.
The  Hotel Guyon opened in 1928 with 298 rooms and a cost of what today would be around $22 million. J. Louis Guyon was involved in nightclubs and radio, and he promoted wholesome dancing as opposed to the scandalous jazz music of the time. (For more about the scandal of lascivious dancing during the jazz era, come on our Jazz, Blues & Beyond Bus Tour.)
Of course, the Hotel Guyon went out of business during the Depression, and over the years it changed hands many times. In the '90s, the Guyon Hotel was pretty much gutted and remodeled into apartments for a non-profit housing development which, of course, failed. Today its windows are smashed out or boarded up, and when I went by an entire board on the ground floor was ripped off so that one could walk right inside. Check it out for yourself in the Chicago neighborhood of West Garfield Park, 4000 W. Washington Blvd.
— Amanda Scotese, Chicago Detours Executive Director