This past Saturday we had our 5-Year Anniversary Bash with the preview of our new Big Shoulders Historic Bar and Food Bus Tour. In short, it was epic. We started our new food tour and celebration with check-in at the historic Berghoff restaurant.
Kicking Off at the Berghoff
People mingled over drinks before we introduced the evening and shared some of the great beer history of the Berghoff. Above are Kate Joyce (left), photographer who took many of the beautiful tour photos that appear on our website, and Jenn Harrman (middle), our first full-time office manager who came into town from Nashville for the occasion. In the background on the left is Paul Durica of Pocket Guide to Hell.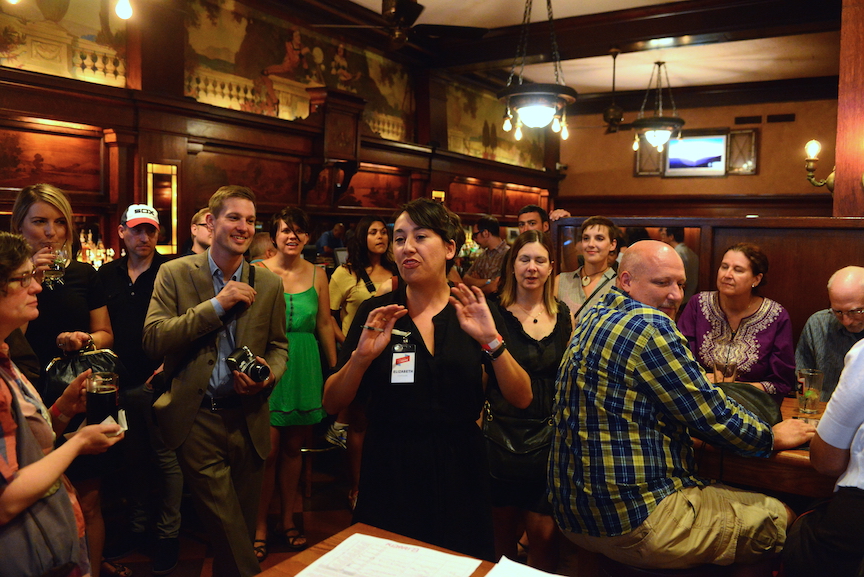 We were completely sold-out with our partners, associates, staff, private and public tour clients, and all our friends and family. For our new food-tour-meets-bar-tour, I was one tour guide and Elizabeth (pictured here) was the other. She is awesome.
Off to Bridgeport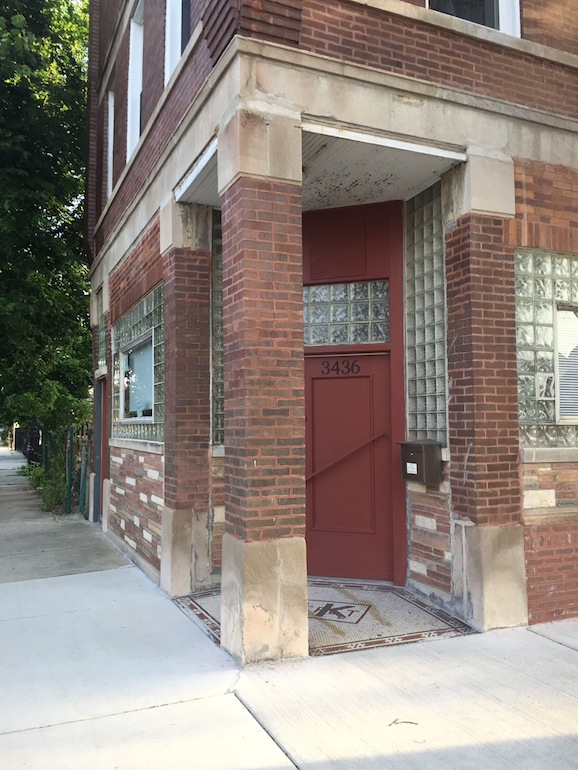 Then we loaded up our two 39-passenger busses. We talked about the South Side, Bridgeport, and saloon history on the way down to the neighborhood. The tour portion of the event included a cruise down Lituanica Street, once home to a big community of Lithuanians. We discussed of everyday architecture, like workers cottages and former groceries and taverns, and ran into to Bruno's Bakery for some Lithuanian bread for everyone to taste.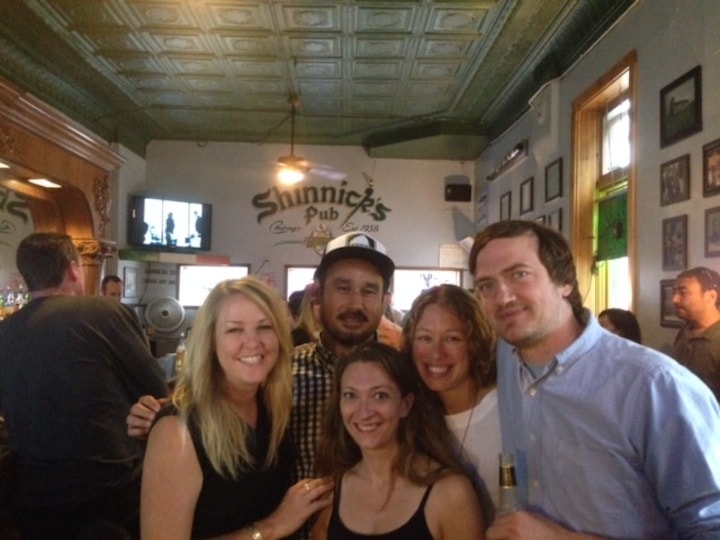 One bus had their drink stop at Schaller's Pump, and the other inside Shinnick's. These are bars where drinking anything but cheap beer just doesn't make sense. UPDATE AS OF 5/8/17: THE FAMILY JUST PERMANENTLY CLOSED SCHALLER'S PUMP ON 4/30.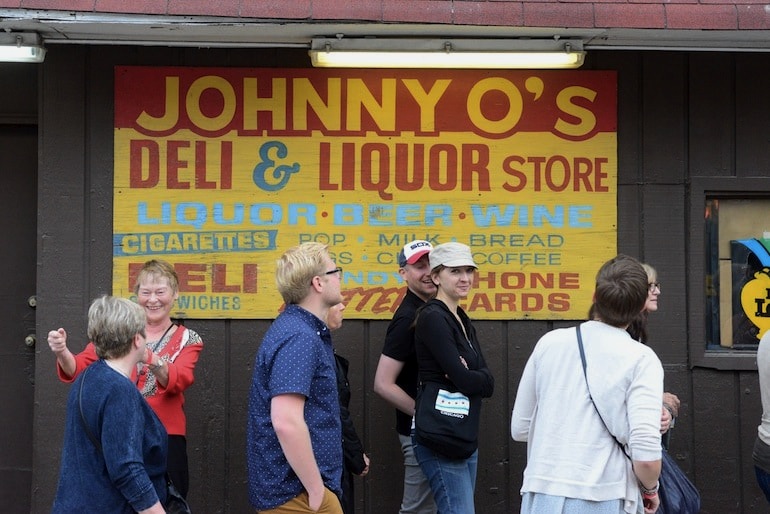 Then we had our dinner stop at Johnny O's. You have to go through the liquor store to get to his secret super-'70s bar that's attached.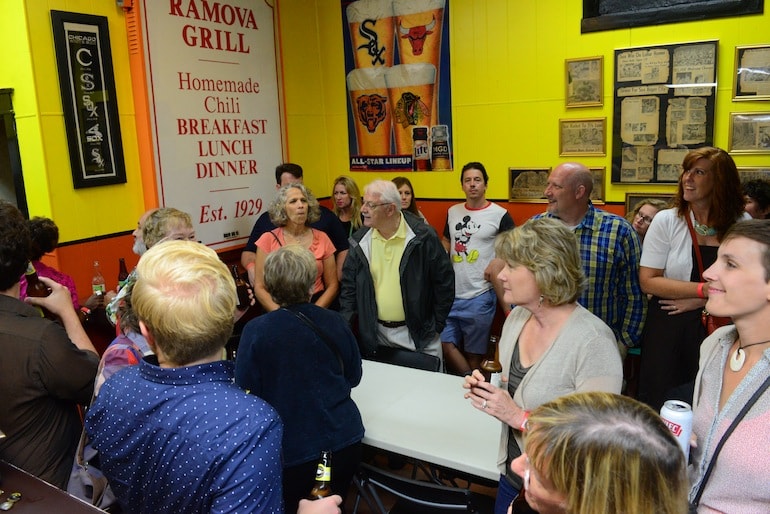 Johnny, who manages his liquor store and hot dog stand with his sons, has had his establishment here since 1970. Back then Bridgeport was bustling with industry, when workers were frequenting the many taverns in the neighborhood. He got his hands on the Ramova Grill sign when it closed a few years ago, and there are some great news clippings from a pretty funny White Sox debacle that involved Mayor J. Daley (you'll have to come on the tour to find out).
Food and Fun at Johnny O's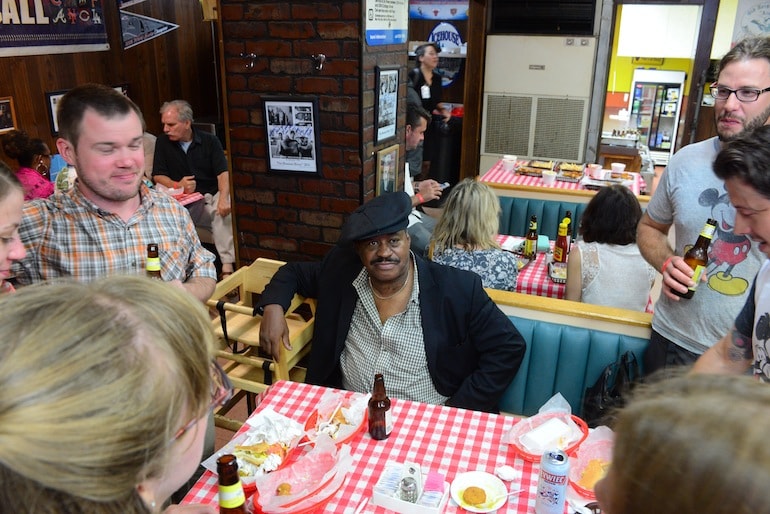 Blues musician Fruteland Jackson joined us, too. You may recognize him from our Jazz, Blues and Beyond Tour by Bus. He gets on board and teaches tour guests how to play blues harmonica.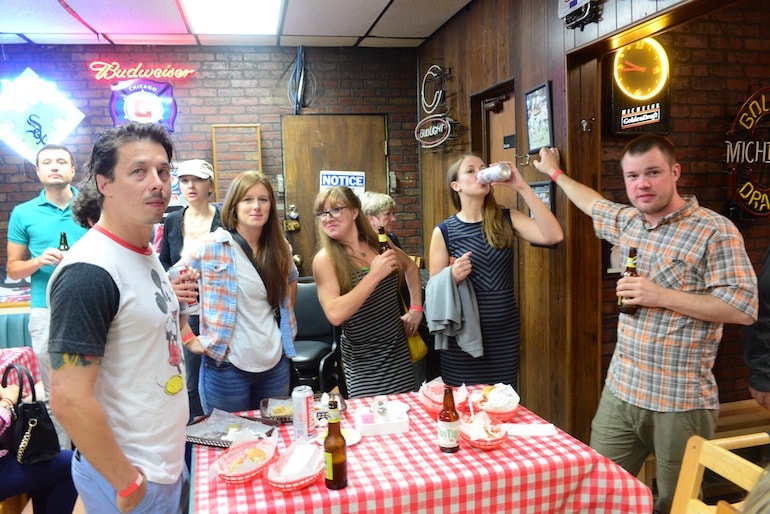 People ate their choice of Chicago hot dog or Mother-in-law sandwich. There was also a ton of french fries and fried veggies.
To the Stock Yards and Beyond!
After touring the area of Bridgeport where people lived, ate and drank, we went a little south of the neighborhood to the industrial area, once home to Spiegel's and Wrigley's. We also dug into some meatpacking history on the way to see the Union Stockyards Gate from 1865.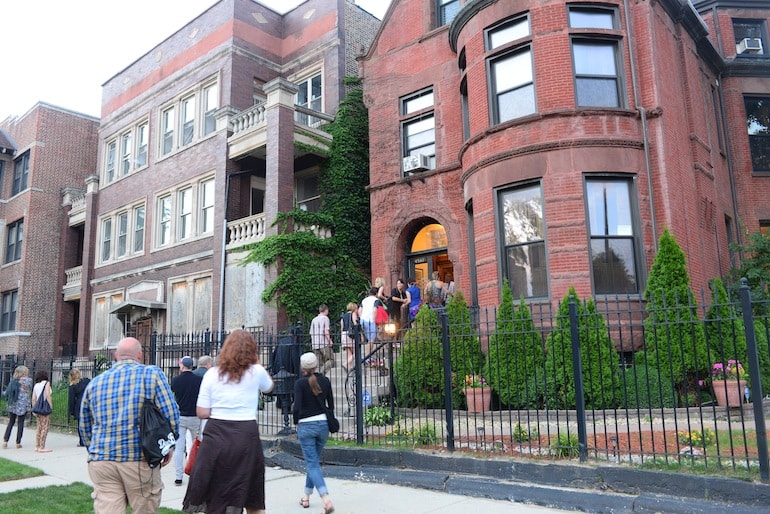 The busses rolled through the Canaryville neighborhood on our way to a Gilded Age mansion in Bronzeville, which is the Welcome Inn Manor B&B. Here we had more food, beer, and a presentation before indulging in cake. Everyone found a party space, whether on the front stoop, in the many grand rooms of the mansion, or in the backyard, where we had a bonfire going.
Everyone was having such a good time that we have just about no photos of the afterparty at the mansion, or the "after-after party" in the Game Room of the new Chicago Athletic Association Hotel. If you have any photos to share, please send!
We received press from WGN Radio, Chicagoist, and the Chicago Tribune, among other publications. A thanks to all who hosted us, including the Berghoff Restaurant, Schaller's Pump, Shinnick's Pub, Johnny O's, and Welcome Inn Manor.
And thank you to those who came to our 5-Year Bash and helped make it such a success. And also thanks to those who came in spirit. It was really a blast!
— Amanda Scotese, Executive Director