The curious people who come on our interactive, guided tours of history, culture and architecture sometimes have questions. Since Chicago Detours guides don't make up answers for our architectural tours, we mark them down and then research the answers for them. Said research is done, so consider these tour questions answered!
If you've come on a tour – whether a regularly schedule tour or a private tour – and you had a question that we haven't answered yet, please let us know!
How does the Percentage for Public Art Program work?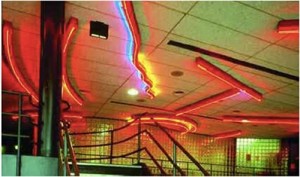 This ordinance applies only to municipal buildings. 1.33% of the budget for constructing or renovating a government funded building must go toward public art. Chicago implemented this in 1978, and was one of the first in the country to do so. The weirdest one I've seen is in the police station in my neighborhood (Logan Square). It's all neon, and out-of-order – I've asked the cops about it and they say the bulbs are burnt out.
Were all 'L' lines that are downtown on land from Yerkes?
Charles Tyson Yerkes was a businessman with an aspiration to monopolize the streetcar lines throughout Chicago. This eventually turned into monopolizing the development of the new elevated system. He used whatever means necessary, mostly bribery, to meet this goal. He began his time in Chicago by buying the North Chicago City Railway and leasing the rights to his own holding company for 999 years. Yerkes would go as far as to bribe councilmen for franchises and would hire "professional vamps" – people who would blackmail those who were against him.
While he did have all downtown streetcar lines at a certain point, stockholders were distributed among staff and relatives so that his monopoly was not completely obvious. While he did have all the lines downtown, he did not have all elevated lines. The Metropolitan West Side Elevated and the Lake Street Elevated Railroad were not under his control. We get into his story on the Loop Interior Architecture Walking Tour.
Why no benches in Chicago?
There aren't a lot of public street benches in downtown Chicago, but they definitely do exist. When you see them though, you'll notice that they are either tiny or longer benches with dividers every two feet or so. That is a common practice in ensuring that "street people" don't linger, especially in touristy areas. Though benches are uncommon, public square seating is not – try right to the west of the old Water Tower, Daley Plaza, or Chase Tower for people-watching perches.
Where was the Picasso fabricated?
The untitled Picasso work, called simply "The Picasso," was facilitated by the architectural firm of Skidmore, Owings, & Merrill, and completed in 1966. American Bridge Company, a division of the US Steel Corporation, fabricated it in Gary, Indiana using COR-TEN steel, a metal which actually becomes stronger as it rusts. We talk about this on our Loop Interior Architecture Walking Tour.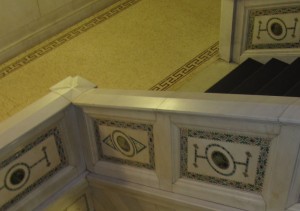 Where does that green marble in the stairs of the library side of the Chicago Cultural Center come from?
Italian Carrara marble adorns the stairs, walls, and ceiling. Other portions of the building are covered in granite from the South. These green spheres, however, are a kind of stone called Connemara marble, which comes from West Ireland. It's often used for jewelry.
Why does the Chicago Temple entrance on Clark St. say "First Methodist Episcopal Church?
The congregation broke ground on their new building in 1922. The planned name was The First Methodist Episcopal Church-'City Temple'. The Pastor changed the name from City Temple to The Chicago Temple during construction. In 1939 the Methodist Episcopal Church merged with other branches of Methodism, becoming the regular ole' "Methodist Church." 1968 marked even further unification, thus "United Methodist Church."
Those last two questions come up with some frequency on the Loop Interior Architecture Walking Tour.
— Amanda Scotese