On tours, we try to find out answers to your questions if you happen to stump us!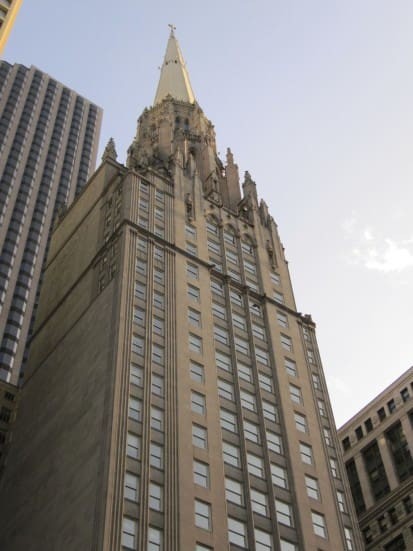 For the Loop Interior Architecture Walking Tour:
1. What are the speakers on the top of the First United Methodist Church?
Those are for the sound of bells! They ring quarterly from 8am-8pm.
2. Why is there Chinese writing on a stained glass panel inside the church?
Senior Pastor Phil says that the church helped a Chinese student who was not able to go back to China in the 70s, and later the family gave that panel as a gift to the church.
From the Historic Chicago Walking Bar Tour:
3. Is there any connection between the Shriners and the University of Chicago?
Well, I haven't been able to uncover any connection to the Shriners, I have found some connection to the masons. Since the Shriners were open to anyone, the University probably would have stayed with more exclusive clubs that were invite-only. Some info here.
4. What do you call the kind of bricks on the 19th-century mansion inside Lawry's?
Since these were from Belgium they are simply called Belgian masonry, though in the native language they probably have a more specific name. I'll let you know if I can uncover any other terms!
More soon!
–Amanda Scotese, Founder of Chicago Detours